Kevin Nicholson: Torquay United manager wants loan signing
Last updated on .From the section Football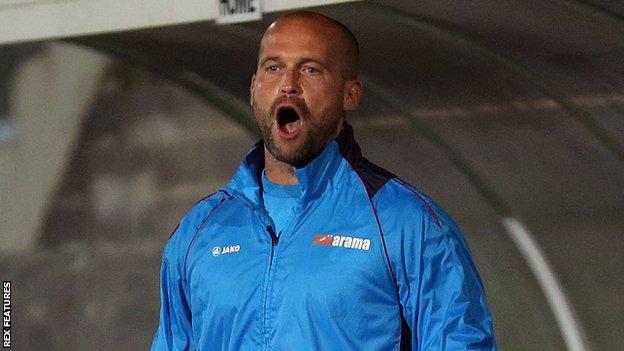 Torquay United boss Kevin Nicholson says he will look to bolster his squad ahead of Saturday's game with Chester.
"We're a small squad to start with and right now we are bare bones," he said.
"Wednesday was going to be a day off, but it isn't any more for me because I'm going to have to put some work in to find somebody."
The Gulls saw an appeal over Ben Gerring's second red card of the season at Gateshead on Saturday rejected - meaning the centre-back is serving a four-game ban.
Young West Bromwich Albion winger Chay Scrivens has returned to the Premier League club after failing to break into the first team during a six-month loan spell, while Dan Sparkes and Aman Verma have fitness concerns.
Nicholson feels that the club's long journeys - their closest National League trip is to Forest Green who are 125 miles away - is having an effect on his squad's fitness.
"For those boys that aren't used to it, it can take its toll on the backs and the hamstrings," he said.
"Unfortunately it happened to Verma on Saturday after the trip to Gateshead, it's happened to 'Sparkesy' on Tuesday and we've got Brett Williams suspended so I might be getting up front at this rate.
"You become hardened to it, you just get used to it and it becomes one of those things.
"But when it's fresh like it is now for the boys, they're a young group and they just need to make sure they do every possible thing they can to physically recover form those trips."