Checkatrade Trophy: EFL chief Shaun Harvey defends new format
Last updated on .From the section Football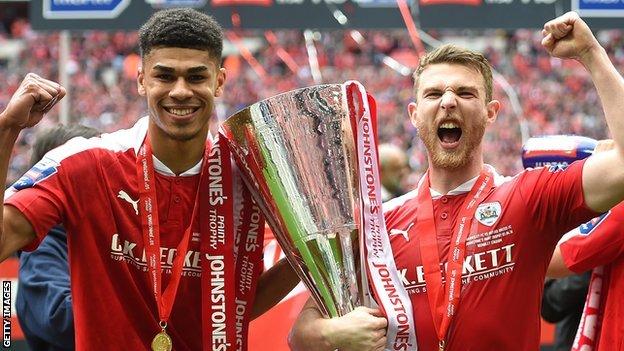 English Football League chief executive Shaun Harvey has defended the new format of the Checkatrade Trophy.
For the first time since its inception in 1983, top-flight clubs with Category One academies were invited to enter a competition which has largely been for League One and League Two teams.
Arsenal, Liverpool, Manchester City, Manchester United and Tottenham did not enter because of fixture clashes.
And three of the first round of matches were watched by fewer than 600 fans.
Harvey spoke to BBC Sport's Simon Stone to address the criticisms.
Simon Stone: How do you respond to the negativity that surrounded the first games?
Shaun Harvey: "Unfortunately, the negativity started before the competition began in the new format. There were a number of protests by different supporter groups who felt this was the thin end of the wedge and that by allowing in Premier League under-21 sides, it was the start of allowing them into the league structure."
SS: There have been low crowds - 392 at Fleetwood v Blackburn, 460 at AFC Wimbledon, 585 at Accrington. Is that the competition or the debate around it?
SH: "It is the misconception this competition was being utilised to bring B teams into the Football League. There are more games, but more than 42,000 attended the opening games compared to 29,000 last year. The numbers at some of them were far lower than we would have liked. But the time to judge the competition is not now. It is at the end, to see how many of the objectives we set for it have been met. We wanted to create the opportunity for younger players at Category One academy clubs, and, indeed, our clubs, to gain valuable experience in senior football. The second was to reinvigorate a competition some clubs, historically, were against existing at all. It was becoming stale because the format had been the same for many years. The third objective was that, in making the changes, we have been able to increase prize money to £1.95m."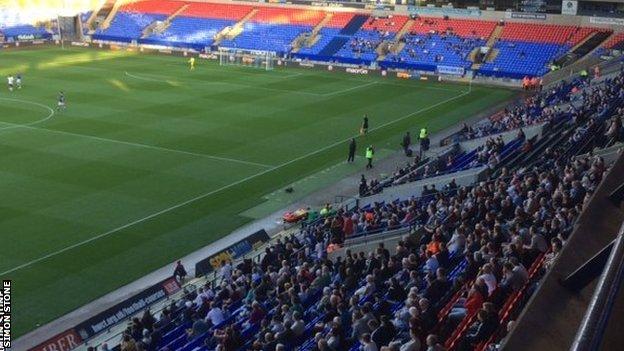 SS: I attended a game at Bolton. Fans there said there was a potential problem if a Premier League team reached the final. They have realistic opportunities to get to Wembley in the FA Cup and League Cup. This is supposed to be a competition for League One and League Two teams. Their only realistic chance of getting to Wembley is through the Checkatrade Trophy.
SH: "Remember, the entry requirement for invited clubs is there must be six players in the starting line-up under the age of 21. If those players progress, the development element of our objectives - creating opportunities for younger players to play in senior competition - would be vindicated. League One and Two clubs won 28 out of 32 games in the first round of matches. It should be possible for an invited club to get to Wembley because it is a real competition and not just another raft of friendly fixtures. Unless there is a real prize at the end of each game, nobody feels it replicates professional football fully."
SS: Would giving the winners of the Checkatrade Trophy entry into the second round of the League Cup be a better way of reinvigorating the tournament?
SH: "There are always ways to innovate using the League One and League Two clubs. We have committed at the end of this one-year pilot to review that with our clubs. But we won't be counting anything in or out. That is what we are asking everyone else to do. To keep an open mind to see whether the objectives we have set for this competition are working."
SS: Everton coach David Unsworth thought the new format provided a fantastic experience for his young players to play in a proper stadium, in a competitive environment, in a competition that meant something. Some Bolton fans didn't see the value of it. They wondered why the Football League was doing the Premier League's "dirty work". They felt the Premier League, with all its money, should be sorting out its own mess because it is those clubs who develop players who go on to the England team.
SH: "We take a more holistic view. English football, collectively, needs to try to find solutions to problems facing the whole game, not just one section of it. David Unsworth's comments are ones we would expect to hear from clubs who see this as a real opportunity to try and bridge the gap, which we all acknowledge is there, between academy and professional football. I don't accept we are doing the Premier League's dirty work."
EFL Trophy facts

45,888 fans went to 32 matches in the opening round this season, at an average of 1,434

29,931 fans went to 16 matches in the opening round last season, at an average of 1,871

League One and League Two clubs must include five out of the 11 players who started the previous or following league fixture

Six of the starting XI for invited clubs must be under 21
SS: The 392 at Fleetwood might have been watching Manchester United, Manchester City, Arsenal, Tottenham or Liverpool had they decided to compete. Chelsea are there but you are without five of the six biggest teams in this country who, by definition, would have the best young players. I understand why those clubs didn't want to compete, because it clashed with international games and they felt it wouldn't be appropriate for a sub-standard side to compete in their name. But without those five clubs, the whole concept is undermined fatally isn't it?
SH: "Only if someone has a crystal ball and can tell us where the next best young players are coming from. The big clubs all appreciated what we were trying to achieve. We were shoe-horned into those dates by the overcrowded fixture list and the requirement to play in the midweek of international football. It is a big leap to say the international players and Premier League stars of the future would only come from the top five clubs."
SS: I didn't say they would only come from those clubs. I said they would predominantly come from them.
SH: "Well they aren't at this moment in time, and they don't historically. The majority of younger players in the England team have had experience at an EFL club in one form or another. We are providing an opportunity. We fully understand why the big clubs did not want to compete. Yes, it would have been better to have all the big clubs involved. But we are certainly not crying over that particular element because the EFL and its clubs are doing all they can to help. We believe 14 of the England squad at Euro 2016 came through EFL academies. In a squad of 23, it suggests that whilst the better players may end up at the bigger clubs, the training and development is going on up and down the country. The majority of team that takes the field, hopefully, in the opening game of the Qatar 2022 World Cup may well, at this moment in time, be at EFL clubs."
SS: Those five big names would presumably add more to attendances. Would you look at altering the structure of the competition so matches could be played at different times to allow them to compete?
SH: "By choice we would want to make the competition flexible, so as many clubs as possible could take part. However, we are well and truly fixed inside a schedule. As much as we are supportive of the Checkatrade Trophy centrally, it is never going to be more important than the league games. They have to take priority. It may be that we are trying to do too many in total. However, that should not be an excuse for not trying."
SS: Barnsley played Oxford in last season's final. It was a fantastic day for those two clubs. There were 59,230 supporters there and it generated a lot of revenue. How would you feel if Chelsea played Everton in this season's final?
SH: "If we end up with two-non EFL clubs in the final, I suspect it will be disappointing for the 48 clubs in League One and League Two. The same question is not always asked of the Football Association, whether they would be disappointed if two teams from the EFL got to the FA Cup final. I suspect they would support it in exactly the same way. Competitive football means winning teams get through to the final. If we end up with two invited clubs in the final, rather than two of our own, the chances of the pilot continuing beyond this year in this format would probably be slim. But we all acknowledge it could happen."
Take part in our new Premier League Predictor game, which allows you to create leagues with friends.