Strict liability: Henry McLeish says clubs in danger of 'being told what to do'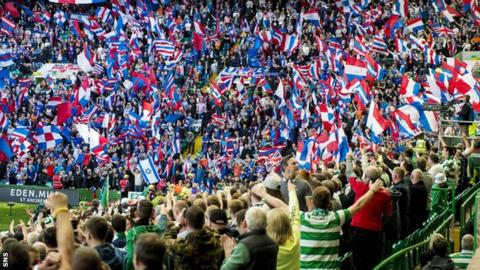 Former First Minister Henry McLeish says clubs are in danger of being "told what to do" by the Scottish government.
McLeish is against a "strict liability" law being introduced, saying clubs must take more responsibility when it comes to ensuring the behaviour of fans.
"It's not rocket science - good governance with firm regulations," McLeish told BBC Scotland.
"That's all you need along with severe punishments if people step out of line."
The Scottish government last week warned that it could step in to force football authorities to take action following the failure of disciplinary action over disorder at last season's Scottish Cup final.
Hibernian and Rangers fans clashed on the pitch following the game in May, but neither club was punished because the Scottish FA's disciplinary procedures are not underlined by "strict liability" - where clubs are responsible for their supporters' behaviour.
Toilets were damaged at Celtic Park after Rangers lost the first Old Firm game of the season, while fans were arrested after effigies were hung from the Celtic end.
And seats were thrown at Aberdeen fans from the Rangers end after the game between the two teams last month.
McLeish feels the football authorities should be strong enough to govern what happens in Scottish football.
"It is a very plausible argument and a very attractive one but what it means is government would be telling the clubs what to do," he said.
"I think at times the clubs need to be told what to do, but on the other hand if we can resolve it by having better ownership of the issues by the clubs, then the clubs should respond.
"I want a more positive response from the clubs. That will avoid legislation and in the end avoid problems with fans."
'Institutional inertia prevents change'
In 2010 McLeish produced the first part of a review into how Scottish football should progress and he insists that progress has been made.
However, with the departure of Mark Wotte and then Brian McClair from the role of performance director at the Scottish FA, he feels clubs must do more to try to help the game in Scotland by embracing the part the governing body has to play.
"I still think you have a bit of resistance (from the clubs) as to who tells who what to do," continued McLeish. "That has to change. It is not going to change overnight. There is not going to be a revolution.
"If you are a club chairman, if you are an elite player, if you are part of the SFA, if you are part of government or part of an elite academy, there is only one goal.
"But it also requires enormous change to overcome resistance - what I call 'institutional inertia'."
McLeish was speaking at the launch of the Fife Elite Football Academy at Auchmuty High School in Glenrothes.
He says the introduction of elite football academies throughout the country will benefit Scottish football in the long term.
"We had to bring forward an old institution (the SFA) into the modern era," said McLeish.
"The SFA are reviewing what has been happening over the last few years and they want to move ahead. This will always be a long process.
"If people have ambition and the passion, we can do it. Forget the excuses - we can compete but it demands we step up a gear and the ambitions have to get bigger."