BBC Sport - Irish Premiership: Ards 3-1 Carrick Rangers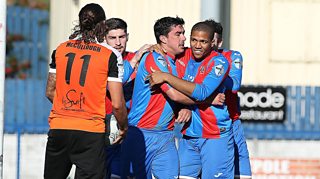 Ards fight back to beat Carrick
Ards move up to fifth in the Irish Premiership table by beating Carrick Rangers 3-1.
Carrick, who had lost their last four in the league, took an early lead through a Martin Murray penalty.
But Ards levelled with a penalty of their own scored by Michael Ruddy and went on to clinch the victory with goas from Emmett Friars and Carl McComb.