Paul Tisdale: Exeter boss says corruption allegations tarnish all football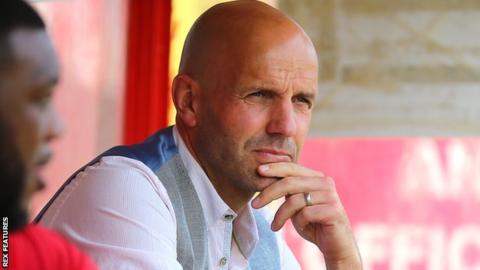 The EFL's longest-serving manager says reports surrounding the integrity of football tarnish everyone in the game.
Paul Tisdale has been in charge at Exeter City for over 10 years and says the reputation of football clubs across England is being hit by the claims.
Sam Allardyce left his role as England manager while Barnsley assistant Tommy Wright was sacked after investigations by The Daily Telegraph.
"It's not good for the sport and our reputation," Tisdale told BBC Sport.
"It takes a long time to build credibility and a name, and you lose it so quickly.
"I'm very proud of what I do as the manager of Exeter and the credibility that we have garnered over a dozen or 15 years, and it's unfortunate that there's a feeling that we all get tarred with the same brush."
Tisdale was appointed as Exeter boss in June 2006 and has guided the Devon club from what is now the National League up as far as League One.
He led the now-League Two side to a famous draw with Premier League Liverpool in the third round of the FA Cup in January and celebrated his 500th game in charge in February.
"It's not great to hear, is it a surprise? Well I suppose there's so much money at the top end of the game that be it bankers in the city or football managers or football players or other professions where there's a lot of money, is there going to be a propensity for that kind of behaviour? Yes I imagine there would be," the 43-year-old added.
"But it's still disappointing and upsetting to see it, and of course it's not great for the sport and the integrity of it so let's hope there are enough good stories out there to balance off.
"We've got nothing to worry about from our end on this topic, there's not much money swilling around at Exeter, it's not a topic of conversation here other than what we've seen in the media."