JJ Hooper: Northampton Town forget player's shirt for game at Swindon
Last updated on .From the section Football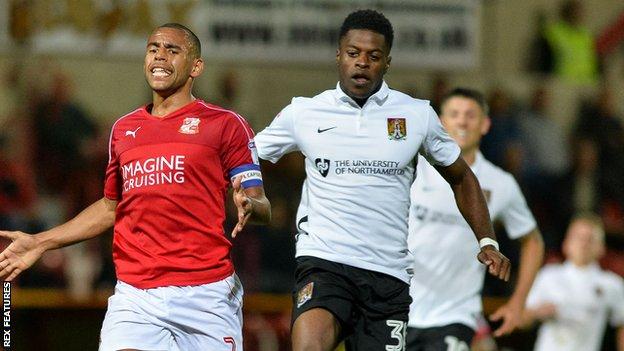 Clubs these days spend so much time and money looking after sports science and preparation before matches.
But sometimes minor details can be overlooked - like a player's shirt.
Northampton Town are currently fourth in their first season back in League One after promotion last year.
However, during Tuesday's 3-1 win over Swindon, striker JJ Hooper came off the bench without a name or number on his back.
"We forgot his jersey. It's as simple as that," Cobblers boss Rob Page told BBC Radio Northampton.
"I'd love to make something up, but we just got on with it and didn't make a fuss about it."
Despite his anonymity, Hooper set up the Cobblers' third goal as they earned their fourth win in five league matches.
"There were issues we had to address with scoring goals. We looked defensively solid at the start of the season.," continued Page.
"I thought all aspects of our game were excellent. It's great when you're winning games and you have to do it the ugly way.
"That's what we did, it wasn't the prettiest game of football, but when you pick up the paper in the morning it's three points on the board and we scored three goals."