The Charles' family are as close as Wales gets to footballing royalty
Last updated on .From the section Football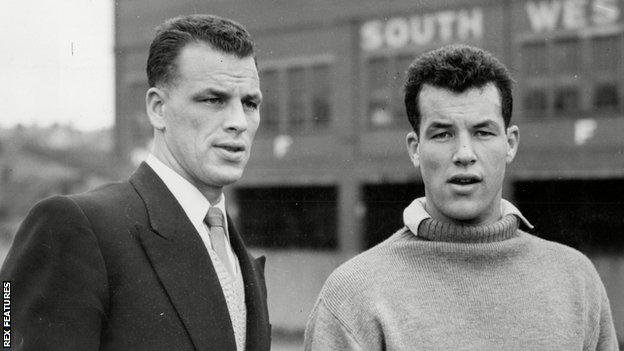 The Charles family has provided three generations of professional footballers as their dynasty continues to thrive.
When, on 27 December 1931, John Charles was ushered into the world to a poor family in Swansea's Cwmbwrla area, there could be little indication of the significance it was to mean for the beautiful game in Wales and beyond.
John's football career at club and international level is now the stuff of legend, but it was to unleash a legacy that still resonates down the years and that remains intrinsically linked with the famous red shirt to this day.
Four years after John was born along came little brother Mel, who passed away last week at the age of 81.
Mel's exploits on the pitch were to rival those of his older sibling and he was to pass the baton onto the next generation, with Mel's son, Jeremy, following in his father's footsteps at Swansea and on the international stage.
Today, 20-year-old Jake Charles upholds what has become the family business. Jake is looking to make the break-through at Championship club Barnsley and, naturally, despite being born in Oxford, is seeking to emulate the achievements of his grandfather and great-uncle on the international stage with Wales.
The most recent Charles off the footballing production line remains unfazed by comparisons to his illustrious grandfather in particular. Indeed by his family's illustrious footballing heritage all together.
As the Charles' have tended to do down the years, Jake came to Wales' aid recently by scoring an equaliser against Luxembourg to spare the blushes of the Welsh under-21s.
With confidence evidently in the genes, young Jake recently said of his grandfather : "I take it in really and use it as confidence for myself."
But, as another famous native of Swansea, Dylan Thomas once said: 'To begin at the beginning.'
It is not unusual for brothers to dominate a side for club and country, the Charles' contemporaries, the Charltons were doing it for England, but for a nation like Wales what John and Mel were to achieve has already entered folklore.
Despite their similarities as players, Mel in many ways played second-fiddle to his older brother. Both originally slipped through Swansea's fingers, John forever, with 'the gentle giant' going on to become a legend at Leeds and in Italy with Juventus.
Mel almost linked up with John at Leeds, but eventually settled at his hometown club, before heading to Arsenal where 60 appearances for the Gunners between 1959 and 1962 masked the injuries that plagued him in North London.
John and Mel both shipped up at Cardiff City too, but for many they had already passed their prime.
It is on the international stage for Wales that the brothers are fixed in the nation's psyche. In particular the 1958 World Cup, which globally may belong to Pele, but back home belonged to the Charles boys.
John's absence from the quarter-final is credited with helping break Welsh hearts whilst Pele himself, who did the damage, credited Mel as the finest defender he tussled with in the entire tournament.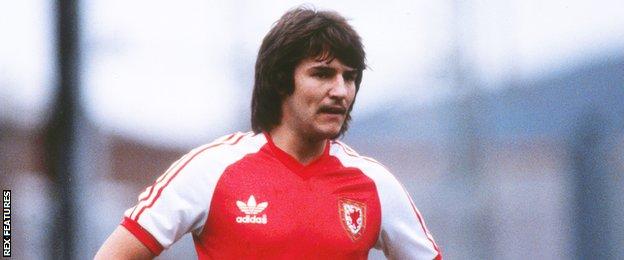 As for Mel, he got the teenage Pele's coveted shirt, but in typical fashion it was worn later in Sunday league football when the retired Mel's side was short on funds.
His son Jeremy managed to somehow step from the shadow of his Dad and uncle in his own right. He eclipsed his father's 233 appearances for Swansea with 247 of his own. But had to be content with a more modest 19 Wales caps and one international goal.
And so the dynasty continues onward to today.
John's son Mel junior managed a few appearances for Swansea back in the early 1970s, but it to his son Jake now the flame seems to have been passed.
The 20-year-old has only seen grainy black and white footage of his legendry grandfather, but it seems the awe for the man who began it all is programmed into him.
Jake told BBC Wales Sport recently: "Everyone knows how much of a big, big player he was. When he passed away I was young, but I remember his stature and how big he was. He was a big guy."
That big light was extinguished in 2004 and now that other Charles beacon, Mel, has gone. The memories though will go on forever, just like the Charles family football legacy.