Plymouth Argyle set to buy back Home Park from city council in £1.7m deal
Last updated on .From the section Football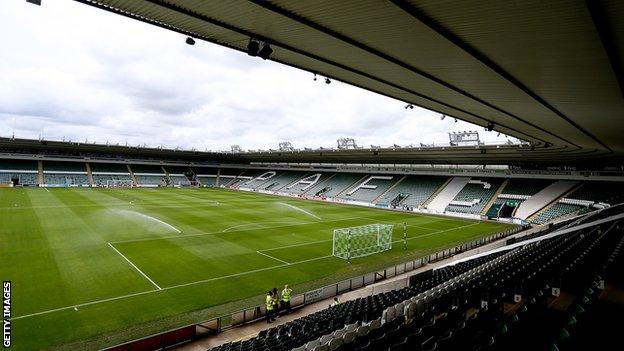 Plymouth Argyle are set to buy back their Home Park ground from the city council in a £1.7m deal.
However, the agreement had a provision to buy it back after five years.
"We've got the club back on a firm footing, and this is really about how we take the club forward in a very sustainable fashion," Brent said.
Under the buy-back deal, Brent and some of his fellow directors will put up the money in the form of irredeemable shares, meaning the investment can never be paid back.
The Argyle Fans' Trust recently expressed concern about the long-term stability of the club should Home Park leave public ownership.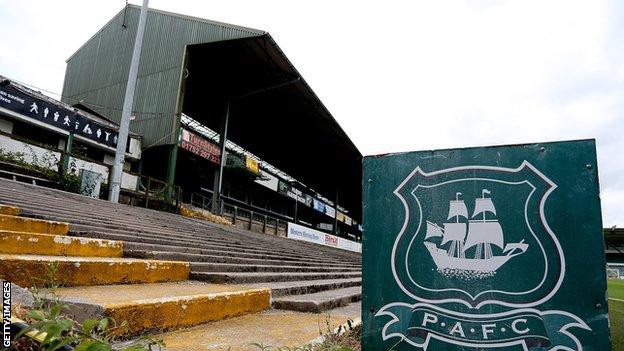 However, Brent told BBC Radio Devon: "When we buy the stadium back from the council there will be a perpetual covenant to guarantee that Home Park will never ever in the future be used for anything other than a sports stadium.
"If we don't buy the stadium, over the next 20 years we'll pay twice the purchase price, we'll pay £3.4m as a minimum, and more likely around £4.5-5m in rent and we still won't own it.
"We will save over 20 years a minimum of £3.4m which is twice the amount we're putting into the club."
Brent also confirmed the club remains committed to rebuilding the Mayflower Stand.
Plans were approved in 2013, with work meant to be starting the following year, but work has still not begun.
"We are working hard on that, but once bitten twice shy, I'm not going to announce anything until it's agreed," Brent added.
"We are absolutely committed as a board to delivering new grandstand."