Wrexham: Manager Gary Mills defiant after fans boo team
Last updated on .From the section Football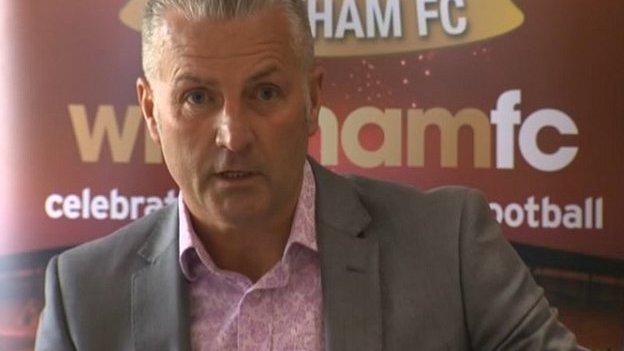 Wrexham boss Gary Mills was defiant after his side was booed-off at the end of their 0-0 draw in their derby against Chester at the Racecourse.
The Dragons have 16 points from 11 games after a defeat and a draw in their last two outings.
"I'm not going to stop smiling. Saturday afternoon, game of football, local derby and that's why I've been in the game all my life," he said.
"If Wrexham want me as manager then great, if they don't I'll move on."
And he added: "I've moved on before, whether by choice or not, but while I'm here I'll give it everything I've got - I always do - and we'll see where that takes us."
Mills has been in charge at Wrexham since April 2015, guiding them to eighth place at the end of last season.
But their inconsistent form this season has drawn criticism from fans with board member Barry Horne admitting the manager was under pressure ahead of the derby match with Chester.
However, Mills defended his team's performance and gave short shrift to fans prepared to shout their disapproval during games.
"If people want to talk to me I'll talk to them - if they want to shout abuse then I won't," said Mills.
"There's a way to right way to talk to people.
"If everybody comes thinking they're going to win every game it's not going to happen.
"My players have worked so hard today as a unit to get a result for this football club but it may not be enough to please some people.
"Let's talk about the ones who are behind us."