Cologne seek 30,000 euros after German football clubs allowed to sue unruly fans
Last updated on .From the section European Football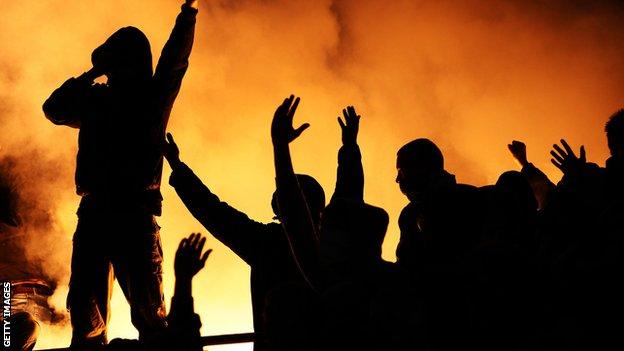 German football club Cologne are seeking 30,000 euros in damages from one of their own fans after a firework injured seven people.
It comes after the German Federal Court of Justice ruled football clubs can now take fans to court over serious misbehaviour during matches.
The Bundesliga club were fined 50,000 euros by the German football association (DFB) after the incident in 2014.
They were also ordered to invest a further 30,000 euros in measures aimed at preventing violence.
The club expressed their approval of the court decision, saying "the ruling gives us as a club much needed legal certainty regarding the question as to whether we can pass penalties imposed by the DFB on to those who were originally responsible".
The upper regional court will now have to decide whether the supporter will have to pay all or some of the damages sought by the club.