Rangers: Joey Barton tells fans he is 'not going anywhere'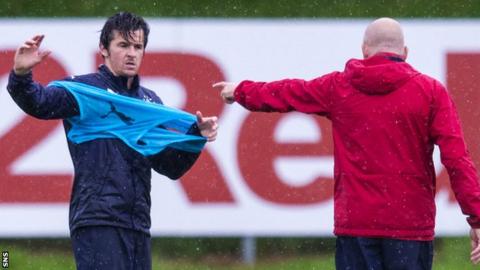 Joey Barton has told Rangers fans he "can't wait" to get back playing for the Ibrox side despite his club ban.
The English midfielder has been suspended by manager Mark Warburton for three weeks following a training ground incident.
However, Barton, responding to fans on Twitter, has pledged that he is "not going anywhere".
He wrote: "Can't wait to get back and show what (I) am about. Came to be successful. Nothing's changed."
In another tweet to the same fan he reiterated his desire to stay at Ibrox.
"Not going anywhere, happy to be judged after the season," he continued. "Played eight games. Had to use some for fitness as had no pre season."
And to another fan he said: "Never ran from a challenge in my life, Amy. Not about to start now."
He also backed Rangers to bounce back from their disappointing start to the Scottish Premiership season, with just nine points from six games leaving them already four points behind champions Celtic, having played one game more.
Barton was heavily criticised for his performance in the 5-1 defeat by Celtic.
"People far too quick to write (us) off," he said. "Celtic game was [Barton's own] first competitive loss since 28th Dec 2015, that includes training. Thirty plus games."