Giancarlo Gallifuoco: Torquay United defender hooked by English football passion
By Brent Pilnick
BBC Sport
Last updated on .From the section Football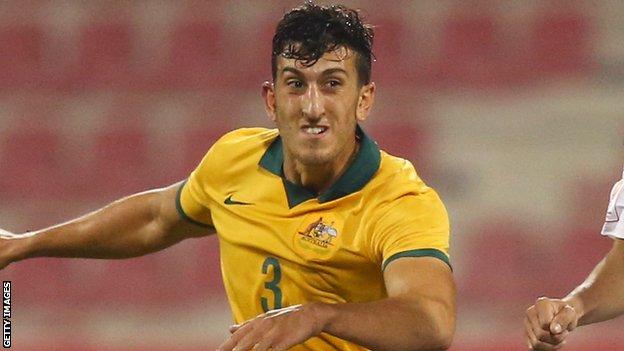 Torquay United defender Giancarlo Gallifuoco says the passion people have for football in England was the reason he came back to the country.
"I have a lot of admiration for Australia and their league and how far they're trying to come with it," the former Tottenham youngster said.
"But I just don't think anything can match the UK's football culture."
Gallifuoco, who moved to Swansea City in 2014, decided to go back home last year to help the Australian Under-23 side that failed to qualify for the Olympics in Rio.
"I was here for four years and when I went back home, it was a move that I thought was the best thing for me at the time as I was chasing the national team and the Olympics," he told BBC Sport.
"But once that was all done and dusted, there was nothing that I missed more than being back in the UK and playing for fans that are die-hard for their team.
"Even though there's a difference in styles, this is the place I always wanted to be."
Gallifuoco is one of three foreign players at the National League club, alongside goalkeepers Jamie Robba and Brendan Moore, who are from Gibraltar and the United States respectively.
"It's very helpful. I think if i was the only foreign player it would be a bit odd," he said.
"Maybe you'd feel a bit alienated, but when you have those other two people you have those similarities and those common interests and I think it helps a lot."