Jess Fishlock: Seattle Reign midfielder has no Wales retirement plans
Last updated on .From the section Football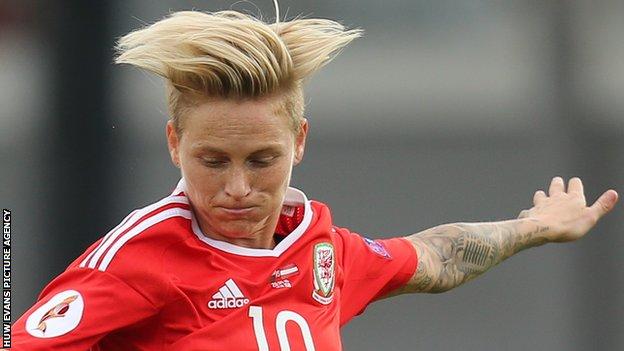 Jess Fishlock has pledged her future to Wales, ruling out the possibility of retiring from international football in the near future.
The midfielder, who plays her domestic football for Seattle Reign in the United States, has won 88 caps for her country, scoring 28 goals.
Fishlock, 29, still hopes to help Wales qualify for a major tournament.
"Whenever I play for Wales and with these girls, it's really hard for me to walk away," she told BBC Wales Sport.
"For me playing for my country is something that I'll never take for granted. It's probably the best feeling in the world.
"If I know myself, I think I'll be here for the next campaign. I think I've still got it in my legs, I think I can still contribute to the girls and this team.
"As long as I can do that, I think I'll always be there for my country."
Fishlock won her 88th cap for Wales as they ended their unsuccessful Euro 2017 qualifying campaign with a goalless draw against Austria. on Tuesday.
Wales' women have never qualified for a major tournament, but Fishlock sees a bright future for the team.
"That would be great [qualifying] but I want to be here for the kids too," she added.
"You know I want to help the kids develop. We've got some great youngsters coming through. We've got Charlie Escourt coming through, Bronwen [Thomas] is coming through, Gemma [Evans] is coming through.
"I want to be here to help them - I don't just want to be here to play. I want to be here to develop the future."