Micky Mellon: Shrewsbury getting closer to top League One teams, says Town boss
Last updated on .From the section Football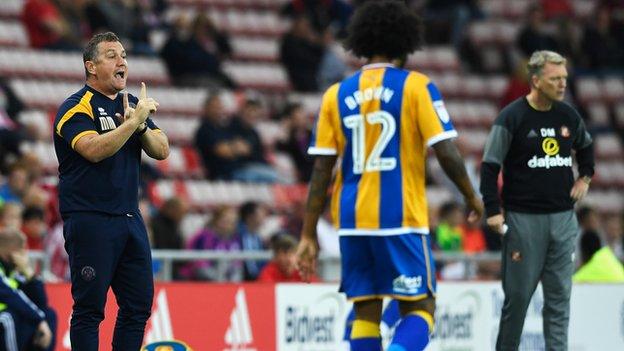 Shrewsbury Town manager Micky Mellon insists they are becoming capable of competing with the top teams in League One despite a poor start to the season.
The Shropshire side, in their second season back in English football's third tier, have so far struggled this term, losing five of their first eight games.
Saturday's 1-0 home defeat by new leaders Scunthorpe left them 22nd.
But Mellon told BBC Radio Shropshire: "In most of our games the tipping point could have fallen our side."
He continued: "There is no doubt that, performance-wise, we're running the top of the table teams much closer. The margins are becoming smaller.
"Where we can get to I'm not entirely sure. I've not got a crystal ball. But what is not up for debate is that there's a hell of a lot of talent in this dressing room."
Mellon also labelled as "rubbish" the suggestion that his team had been booed off by a section of frustrated home fans on Saturday.
Have Shrewsbury found their level?
Former Fleetwood Town manager Mellon is now into his third season in charge at the Greenhous Meadow, the 44-year-old Glaswegian having won promotion from League Two in his first season in charge.
For the majority of Mellon's playing career, with Bristol City, West Bromwich Albion, Blackpool, Tranmere Rovers and Burnley, Shrewsbury were a fourth-tier side, even spending one season in the Conference.
Since relegation in 1992, they have spent just seven seasons in the third tier, three of them after winning promotion under Fred Davies in 1994, and another two when they went up in 2012 following Graham Turner's return.
That is in contrast to the first half of the Shropshire side's 66-year-old career as a Football League club, when they spent 15 seasons in the old Division Three before then astonishingly enjoying a whole decade a level higher up after promotion to Division Two under Turner in 1979.
Those past achievements have added to the burden of expectation amongst modern-day Town followers, but Mellon says fans need to remain both realistic and patient.
"The club's aim should be back-to-back League One seasons. That's important," he said. "For almost 25 years, this club's not been able to do that.
"The youth we're excited about. There's an infrastructure that's been built and we've got a new training ground that we've never had before.
"My job is for us to put on a performance that the fans think is worth paying for."
Analysis - BBC Radio Shropshire's Mark Elliott
"Another transfer window brought another total rebuild for Shrewsbury Town under Micky Mellon. But one key theme remains the same. An inability to win with anything approaching consistency at home is testing the patience of the Greenhous Meadow faithful.
"The Town have undoubtedly got goals in the squad. But while the club has an abundance of forwards, they're short on numbers and form at the back. To say the defence is leaky and error-prone is to undersell the point.
"The problems are clear and so is the task at hand if Shrewsbury are to avoid another tense season trying to avoid relegation."