Crick Athletic Colts Ladies: 34-0 losers praised for 'spirit'
Last updated on .From the section Women's Football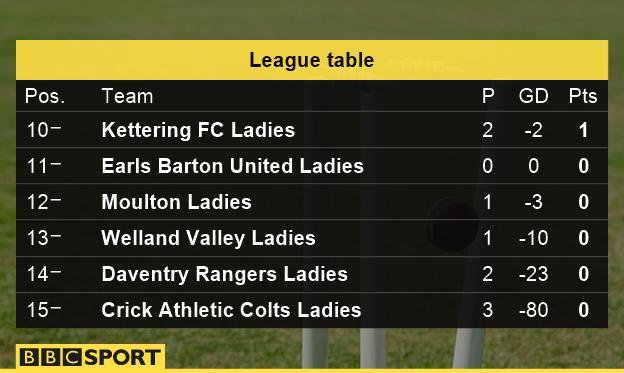 The dawn of a new season brings fresh hope and optimism of what could be in store.
For new side Crick Athletic Colts Ladies, however, the beginning of the 2016-17 campaign has proven to be a steep learning curve.
After 21-0 and 25-0 defeats in their opening two matches, Crick hoped to bounce back when they hosted Corby Town Ladies on Sunday in Northamptonshire Women's and Girl's Football League Division One.
What followed was a resounding 34-0 defeat, although the home side praised their opponents' "spirit and determination" on Twitter.
Crick are one of a number of new teams to the league.
But as there are currently insufficient teams to form leagues where the sides are more evenly matched, they are playing in the same division as much more experienced opposition, such as Corby.
Secretary of Corby Town Ladies, Sheila Lauder, told BBC Radio Northampton: "In the second half the Crick goalkeeper pulled off some absolutely fantastic saves.
"They're a very new team, very inexperienced, and absolutely all credit to them - their spirit was excellent and they were full of praise for us."
The defeat left Crick bottom of the league after three matches, with a goal difference of -80.
"There were a couple of double hat-tricks in there and I think the defenders had a little bit of a day off," Lauder added.
"It was a good, spirited game and I wouldn't say the score reflected the game itself.
"From our point of view, and what we're trying to achieve, we'd rather see a lesser score against a more experienced team."
In a statement, the Northamptonshire County FA (NFA) said increased participation in women and girls' football was important to them and they were delighted to see new teams, such as Crick, taking part in league competition.
"The NFA feels that new teams deserve public praise for entering a league that contains teams that have been established over many seasons, and the Association is dedicated to helping new teams establish themselves and develop as time goes on, so as to ensure they continue to provide an opportunity for women to get involved in the game locally, at a competitive level," it said.
BBC Radio Northampton has contacted Crick for comment.