Paul Tisdale: Exeter's defensive injuries cost City chance of win over Plymouth
Last updated on .From the section Exeter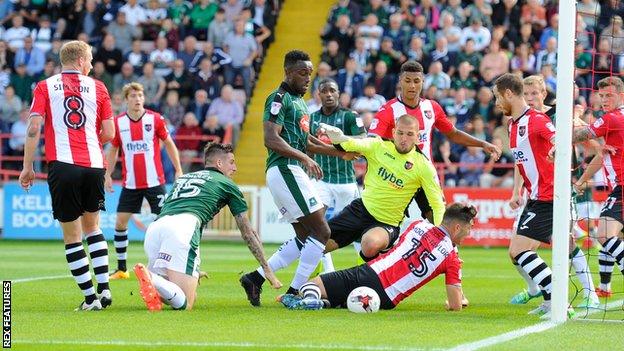 Exeter City boss Paul Tisdale says his inability to pick a consistent defence cost his side the chance to win the Devon derby with Plymouth Argyle.
"Our weakness has been our back four," Tisdale told BBC Radio Devon.
"Not necessarily in terms of individual performances, but the odd goal where we've not had a level of stability and strength about us as a back four."
Tisdale added: "That's changed every week and there's nothing I can do about that and it was our Achilles heel again.
"I can't get Troy Brown or Troy Archibald-Henville or Jordan Tillson or Craig Woodman fitter any quicker, but I can affect the way we play and how much we believe in each other and how we played."
Tisdale says he was not unhappy with how his side fared against Plymouth, despite the club extending their run of poor home form - they have won just two of their last 20 games at St James Park.
"I was pleased with the way the players played," he said. "It hasn't manifested itself in a result, it seems to be the trend of our recent games, but I'm very proud of them and the way they kept playing.
"They certainly believed in each other and trusted each other. Our Achilles heel has been an unsettled back four over the past month, and we got undone by two goals from the middle of the field. That was the difference between the sides."