Mark Hughes: Stoke manager will not contest Football Association charge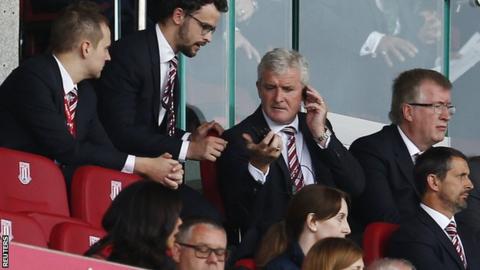 Stoke manager Mark Hughes will not contest a Football Association charge of improper conduct, saying it could cost him money he would prefer to give to his grandchildren.
Hughes was sent to the stand for reacting angrily to two incidents during the 4-0 defeat by Tottenham.
The 52-year-old said the FA charge "rubbed salt into the wounds".
"There is no point appealing because if you appeal and lose then it costs you more money," he said.
"I would prefer to give that to my grandchildren."
The Welshman, who was upset by the decision to book Marko Arnautovic for diving during Saturday's game, was charged on Tuesday and could face a touchline ban.
Stoke said they would speak to the FA about a "potentially inconsistent approach" from match officials to managers leaving their technical areas.
The Potters, who travel to Crystal Palace on Sunday (14:15 BST), are bottom of the Premier League with one point from four games.
However, Hughes is confident his squad will turn things around
"We haven't yet been able to produce a really strong 90-minute performance, but that will come," he said.