Celtic can win race for third in Group C - Jan Vennegoor of Hesselink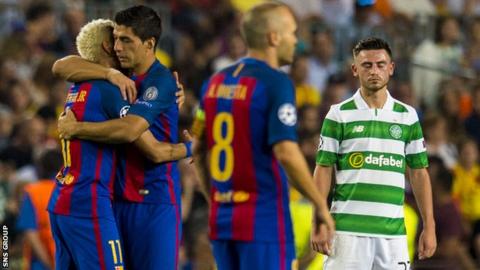 Former striker Jan Vennegoor of Hesselink believes Celtic can finish third in Champions League Group C.
The Scottish champions lost 7-0 away to Barcelona in their opening tie, but the Dutchman is adamant they can compete with Borussia Moenchengladbach to drop into the Europa League knockout stages.
Manchester City beat the German side 4-0 on Wednesday.
"The Bundesliga is really strong, but [Celtic] can still get third," said Vennegoor of Hesselink.
"It's going to be a big test. It's a really good team, a Bundesliga team, I watched them play earlier this year.
"They need to be a little bit lucky, focused, but the two big teams are already there.
"I saw the group when the draw was made and it has two things: greatness, because you play such great teams, but in a sporting way you now you're going to be competing and hopefully you're going to be coming third.
"Then you need to produce, especially in the home games, because anything can happen in home games. Celtic have shown that in the past."
Vennegoor of Hesselink played in the Champions League for Celtic during his 2006-09 spell at the club and he believes that the current players just need to accept that on Tuesday night they faced on the of game's great sides, and put the heavy defeat behind them.
"Sometimes you just put your hands up and say they were the much better team, learn from it and move on," said the 37-year-old.
"Messi, Neymar, Suarez just turned their engines on.
"Sometimes you have those games. I remember playing one game for Celtic away in the Champions League against Shakhtar Donetsk and you wanted to play really good but you just couldn't get a grip of any of the players.
"This is Barcelona, one of the best teams in the world. They just play football from another planet sometimes. This is not hard for the players to let go. It happens and it they won't be bothered about it for too long."
Celtic visit Inverness CT on Sunday and Vennegoor of Hesselink stressed the importance of a swift return to winning ways.
"The next game is when you can show again that you're capable of winning the league," he said. "You can turn things around really quickly.
"Make sure you win the game, not even playing football in a good way, just make sure you win the game, so no-one can hold that against you. They can do that. It will be okay."