Euro 2017: Northern Ireland v Italy (Fri)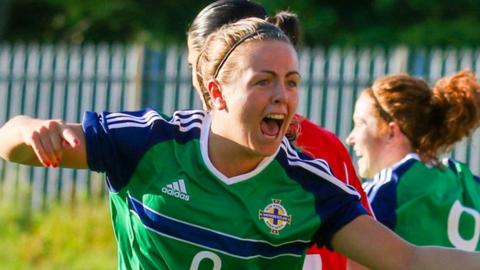 Northern Ireland women will host Italy in the final home game of their European Championship 2017 qualifying campaign at Mourneview Park on Friday.
Alfie Wylie's side, who cannot qualify for the finals in the Netherlands, bring their campaign to a close next Tuesday with a visit to Switzerland.
The Italians and the Swiss are among the top 20 nations in the world and are battling it out to top Group 6.
Italy beat Northern Ireland 3-1 when the sides last met in April.
The visitors had led 1-0 going into the closing 20 minutes thanks to a Simone Magill strike but the hosts, managed by World Cup winner Antonio Cabrini, prevailed thanks to a flurry of late goals.
Northern Ireland go into the game on the back of an encouraging run of results which has brought victories this year over Croatia and Georgia, plus a draw with the Czech Republic.
"We sat dejected and gutted in the dressing room after losing to Italy. I told the girls to harness and use those feelings to their advantage, which they did by putting four past Georgia in the next game," commented Wylie.
"I'll be reminding them again of those feelings before tomorrow's game but I also know they'll give it their all. Nothing will be left behind. They'll play to their limits and will continue to make progress."