Darragh MacAnthony: Peterborough United chairman's highlights after 10 years
Last updated on .From the section Football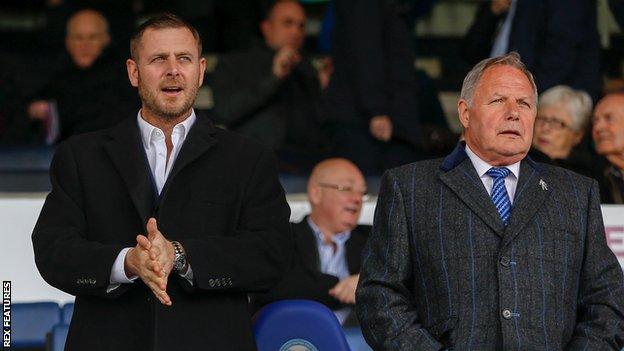 It is fair to say that Peterborough United chairman Darragh MacAnthony is never short of words.
The 40-year-old Irishman is renowned for being one of the most outspoken people in football and is one of the few chairmen to be active on Twitter, despite getting "trolled".
His interview quotes and social media outbursts have provided many column inches. So as he celebrates 10 years as owner of the League One club, BBC Sport looks back at some of the highlights and low points of his tenure, through his own words and of those close to him.
Having the hump after a defeat
Following a defeat by Colchester United in January 2015, MacAnthony took to Twitter to vent his frustrations in a very public way.
He sent 11 reasons why his players had annoyed him, singling out a number in his posts.
They include: "... that a player of Joe Newell's ability can miss an open goal from five yards out early on. He should be scoring 10/15 a season."
And: "...that a striker I paid half a million for, minutes before Colchester score, scuffs great chance eight yards out with nobody near him."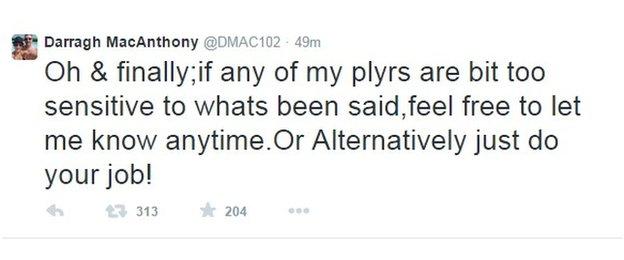 You can check out a fuller list of grievances here.
Love, I have something to tell you...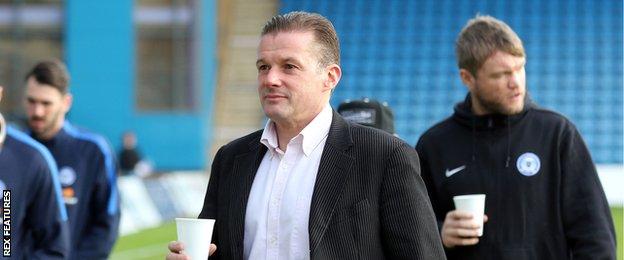 Graham Westley was appointed as MacAnthony's seventh different manager in September last year and, following victory in eight of his first 12 matches in charge, the chairman had an admission.
"My missus thinks I'm having an affair with him, because we speak so much," he told BBC Radio Cambridgeshire.
"I've never known a manager who wants to speak to me as much as him. We went out last week for dinner. I love his intensity and he loves my intensity."
No-one is safe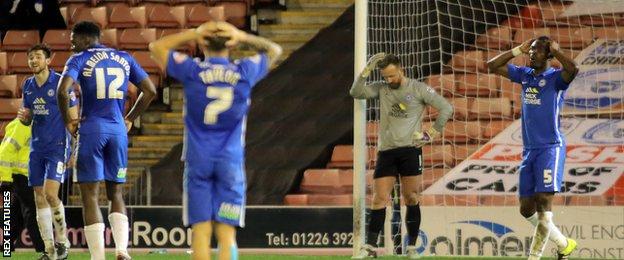 The affair was short-lived.
After a disastrous run of form following their FA Cup exit, MacAnthony had pretty much had enough.
"I employ over 300 people at Peterborough United, not one of those employees right now has a job in the summer," the chairman said.
"Every single person who works for me at that football club - from the tea lady to the youth players - I want to see that they mean business for next season, because if I don't see it they're gone."
He duly sacked Westley and gave the managerial job to Grant McCann, who remains in charge with Posh currently two points outside the play-off places in League One.
Who's the whippersnapper?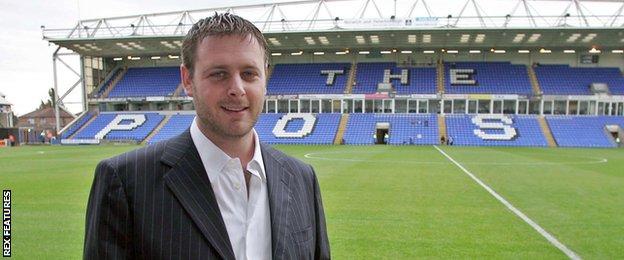 Born in Dublin, MacAnthony earned his fortune through a property development business in Spain, with his worth in 2007 reported to be £150m,
Every year, the football mad Liverpool fan made a wishlist of things he wanted to achieve. In 2006, at the age of 29, one of those was to buy a football club.
After trying unsuccessfully to take over Woking and AFC Wimbledon, he was pointed in the direction of Peterborough, then in League Two, and bought the club from current Posh director of football Barry Fry to become the youngest owner of an English club.
He has said of his early stages in the job: "There are quite a few chairman who look down their nose at me and think 'who is this young whippersnapper, who does he think he is?' It's a bit of the old-school mentality.
"Here I am, a 29-year-old Irish property developer, coming in like I own the place, looking a million dollars. It's tough for some of them to take that."
Appointing Fergie Jnr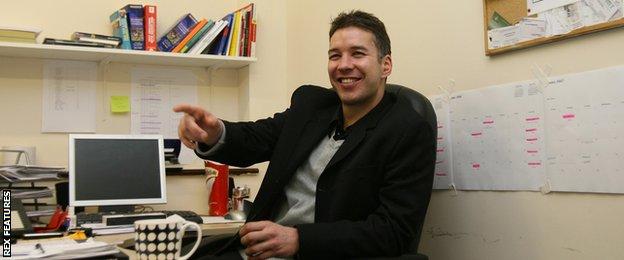 After a run of six defeats, MacAnthony made the first of his eight changes as Posh chairman in January 2007, replacing Keith Alexander with Darren Ferguson.
Much was made of appointing "Fergie Jnr" in his first managerial role, following the success of his father at Manchester United.
And with the help of MacAnthony's "Holy Trinity" of forwards Craig Mackail-Smith, George Boyd and Aaron McLean, the club won promotion out of the fourth tier.
Ups and downs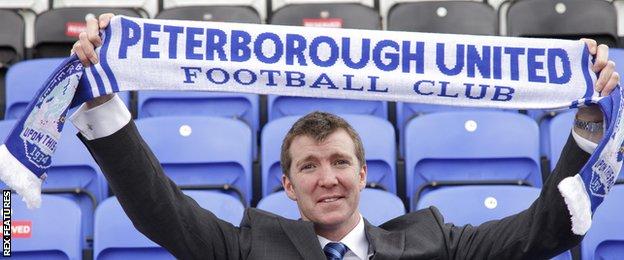 After finishing second in League Two, Posh then sailed through League One the following season to reach the Championship.
But the club finished 24th in the second tier, and went through three managers in Ferguson, Mark Cooper and Jim Gannon.
"I remember Chris Kamara had us down in his pre-season predictions as the third club to get promoted from the Championship to the Premier League," MacAnthony told BBC Radio Cambridgeshire.
"I felt the players could step up. I guess where it fell apart was I panicked too early. Me and Darren had a few tiffs. We stopped talking.
"You're firing loads of managers, you're bringing loads of players in. We got away from the philosophy that made us good."
'Tear-jerking' reunion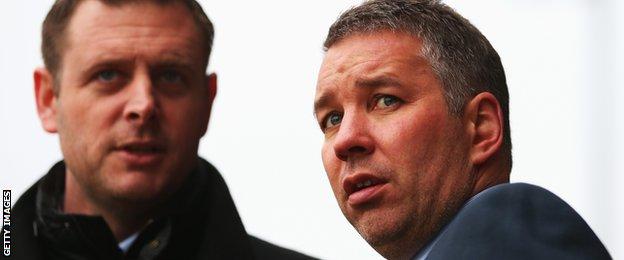 After manager Gary Johnson left the club in January citing disagreements with the chairman, MacAnthony made a dramatic U-turn to bring back Ferguson, the man he had so much success with previously.
"We both made mistakes and we both hold our hands up," MacAnthony told a press conference.
"When Darren came to my house we had a hug and it was a tender moment - a bit of a tear-jerker.
"We sat down and had a real warts-and-all meeting about any irritations we had with each other, any problems from the past."
Sounds intense.
The Old Trafford promotion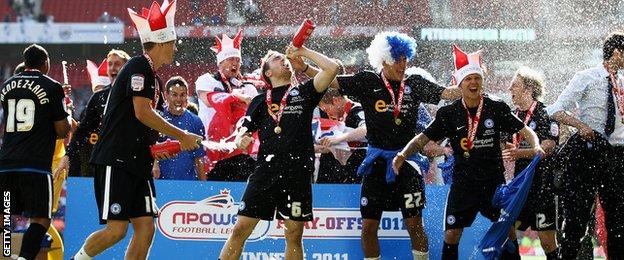 The change paid off. Peterborough were promoted to the Championship again via a play-off victory over Huddersfield at Old Trafford that season.
"All I remember about that day is that Darren was very relaxed, saying over and over 'it's Old Trafford, we'll win'," said MacAnthony.
"It was his dad's turf, like his turf, and even though we had the away dressing room, he still felt we'd win.
"We had a great party in the hotel after that cost me about £20,000 in booze. It's one of those days that will stay with me forever."
Relegation on 54 points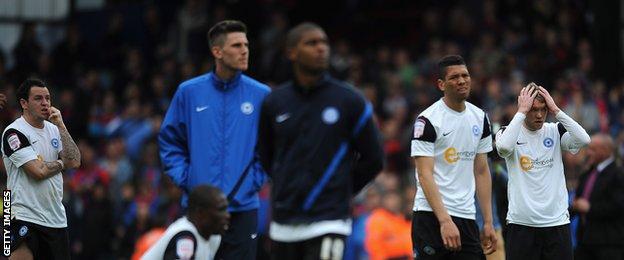 After an 18th-placed finish in their first season back in the Championship, Posh were relegated back to League One the following campaign thanks to an 89th-minute winner from Crystal Palace's Mile Jedinak against them at Selhurst Park.
Even worse, Posh's total of 54 points that season is a record for a relegated side.
"It'll never be done again. We didn't go down with a whimper, we went down horribly," said MacAnthony.
Millionaire makers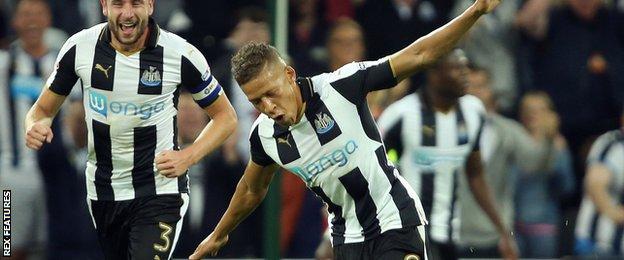 Over MacAnthony's tenure, the Cambridgeshire side have gained a reputation for developing players and selling them on for a big fee.
Notable departures include Dwight Gayle, Britt Assombalonga and, most recently, Conor Washington to QPR in January.
"We will give young players the opportunity to use us as a stepping stone to become millionaires," Posh director of football Barry Fry told BBC Sport.
"There's half a dozen players who have left us who have become millionaires. It's a great system that works for us."