Nigel Pearson: Derby County must stay upbeat despite bad results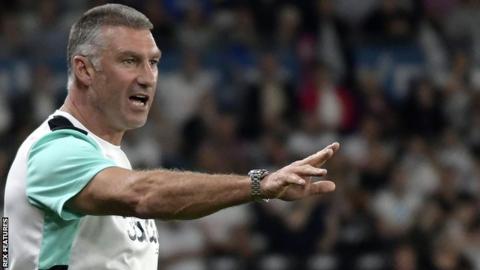 Manager Nigel Pearson says Derby County were "mugged" in the 1-0 home defeat against Ipswich Town and must not dwell on their poor start to the season.
The Rams are 20th in the table with four defeats and two draws from their opening seven Championship fixtures.
Derby's only league goal came in their sole win - a 1-0 success at Preston.
"It's hard to sell a positive message when you are losing games, but it is not pulling wool over people's eyes," Pearson told BBC Radio Derby.
"To get ahead in a game is critical. We have been mugged; we were by far the better side, created chances throughout the game and come unstuck with one shot.
"What you must never do is dwell on disappointments with a negative feel. If the players keep performing with that positive mentality our players will turn it around for themselves. We don't need favours from anybody."
Pearson said the supporters showed they appreciated the effort and level of performance, even though results have not been good enough.
"For the most part the fans have stayed with the players, which was one really good outcome," the former Leicester City boss added.
"Coming off the field you can see the players are performing pretty well. To lose the game is quite unthinkable when you consider how the game went.
"I would be a lot more worried if we weren't creating opportunities. I feel for the players; the last two performances have been very, very good."