Mutiu Adepoju to promote Spain's La Liga in Nigeria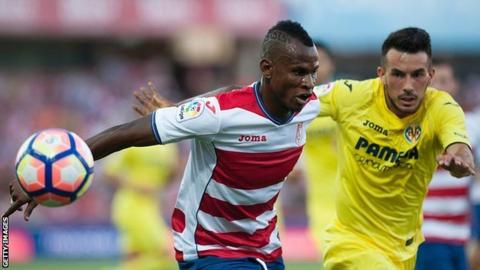 Former Nigeria World Cup star Mutiu Adepoju has been appointed to help raise the profile of Spain's Le Liga in his home country.
The 45-year-old spent more than a decade playing football in Spain.
His task is to improve the Spanish league's popularity to compete against the draw of the English Premier League.
"The EPL has the edge right now, but we want La Liga to be much more visible because Africa is a big football market," Adepoju said.
"In two years, we hope to be the market leader with the biggest media visibility in Nigeria."
The Premier League is widely followed in Nigeria with top local stars such as Chelsea's John Obi Mikel and Victor Moses, Kelechi Iheanacho (Manchester City), Odion Ighalo, Isaac Success (Watford) and Alex Iwobi (Arsenal).
But unlike the Adepoju generation, which boasted many big names in La Liga, Granada defender Uche Agbo is now the only Nigerian star playing regularly in Spain.
Donations
The Nigeria Professional Football League has signed a five-year co-operation deal with La Liga and already this agreement has seen an All-Stars team from Nigeria feature on a playing tour of Spain last month.
La Liga will soon donate 4,000 footballs to the country, while coaches from Spain are scheduled to visit schools and academies in Nigeria. An under-13 tournament, La Liga Promesa, will be staged in Nigeria and South Africa.
La Liga Foundation has also made a cash donation to help Nigeria Premier League club El Kanemi Warriors and Internally Displaced People (IDPs) as a result of the havoc in northeast Nigeria caused by the Islamist group Boko Haram's continuing security threat.
Catalan giants Barcelona are also in the process of setting up a residential academy in Nigeria's commercial capital city of Lagos.
"La Liga is opening to the world," said Adepoju, who wants to open the door of La Liga to Nigerian players.
"Within a few months of the agreement (with the Nigeria league), La Liga has taken a team from here to Spain, where there was also a workshop for Nigerian club managers on organisation and marketing to make our clubs more viable."