Owen Coyle: Blackburn boss takes blame for poor Championship start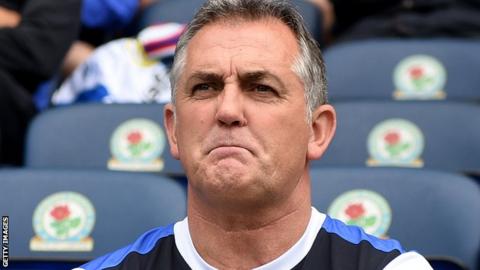 Blackburn Rovers manager Owen Coyle has accepted the responsibility for their disappointing start to the season.
Coyle's side were beaten 2-1 at Leeds United on Tuesday and remain bottom of the Championship with just two points from their opening seven games.
"When all is said and done, I've got the ultimate responsibility to go and win games and points," the Scot said.
"We've not not done that well enough at this point and that is something we need to address quickly."
The 50-year-old former Burnley, Bolton and Wigan boss took over at Ewood Park in the summer after a spell at Major League Soccer side Houston Dynamos.
"People say talk is cheap and I certainly understand that," Coyle told BBC Radio Lancashire. "We now have to starting getting win after win, which we're capable of doing.
"We've not been blessed by luck but we've got to start making our own luck and going an earning the points that we crave, which are wins."
Coyle has indicated that former Manchester United and Sunderland defender Wes Brown, who has been training at the club over the summer, could be offered a contract.
"I've spoke to Wes over the last number of weeks," he added.
"It was important that we got him up to speed in terms of fitness and he has now come through that process, so that is something we would look to do."