El Salvador players refuse 'financial incentives' for Canada World Cup qualifier
Last updated on .From the section Football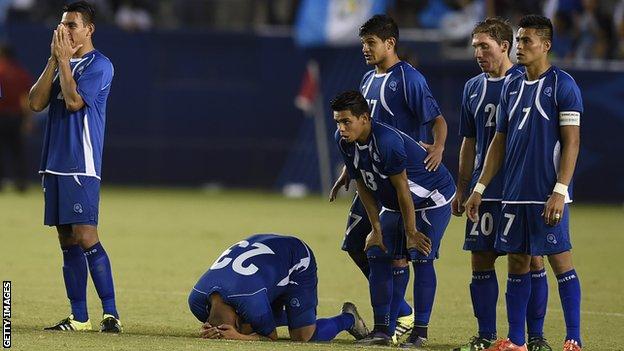 El Salvador players were offered financial incentives before Tuesday's World Cup 2018 qualifying game against Canada, the country's football association has confirmed.
It said Salvadoran businessman Ricardo Padilla offered the players rewards to win, draw or avoid a heavy loss.
A heavy defeat could have seen Canada progress at the expense of El Salvador's neighbours Honduras.
Canada won 3-1, but Honduras went through with a 0-0 draw against Mexico.
World football governing body Fifa and regional confederation Concacaf, which governs football in Central and North America and the Caribbean, have confirmed they are investigating.
In a recording played by El Salvador's captain Nelson Bonilla at a news conference, Padilla promised various amounts of money to players depending on the result.
The amounts ranged from $30 (£22) a minute for a win to $10 (£7) a minute for a 1-0 defeat.
"In reference to what we heard, we want to make it clear that we are against anything of this kind," Bonilla added.
"We want to be transparent about everything that has happened with the national team."
Fourteen El Salvador players were previously banned for life in 2013 after being found guilty of match-fixing.
Padilla, a former president of El Salvador club Alianza FC, told a newspaper in the country that he was not asking the players to match-fix.
"Let them investigate. Those who want to see it as something bad can see it that way and those who want to see it as something good then they can too," he told La Prensa Grafica.
Investigative journalist Declan Hill told the BBC World Service it is the "most dramatic thing in football" for some time.
"The entire team came in with their coaches and said they had been approached on Saturday," he said.
"They played an 11-minute conversation with the attempted match-fixer. He was offering each player a variety of money per minute depending on the result they could get. The most they would have got for allegedly fixing the match would have been about $3,000 per player."
There has been no comment from the Honduran or Canadian football associations.
A Fifa spokesman said it is "aware of the claims" and that "in co-operation with the respective organisations and authorities, Fifa is looking into this matter".
While Padilla's offers to players appear to help Honduras - who face group leaders Mexico - the neighbouring countries have had difficult relations in the past.
The two Central American nations briefly went to war in 1969 and as the conflict coincided with bad-tempered World Cup matches between the two, it became known as the Football War.