2018 World Cup: NI defender McAuley urges caution against San Marino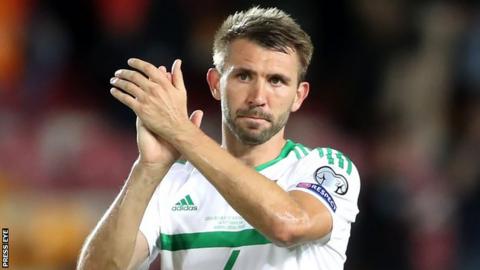 Northern Ireland defender Gareth McAuley has urged his team-mates to avoid any embarrassing slip-ups against San Marino at Windsor Park next month.
Michael O'Neill's side began their World Cup qualifying Group C campaign with a draw against the Czech Republic.
"We have struggled against teams like that in the past," warned McAuley.
"I'm not one for looking back but in the last campaign we found a way of beating the teams we are expected to beat," added the West Brom centre-half.
Northern Ireland began their bid to reach the 2018 World Cup finals in Russia by picking up a point from a goal-less stalemate in Prague on Sunday but now face an October double-header against two sides at polar opposite ends of the international football spectrum.
San Marino, a nation who have never won a competitive fixture in their 26-year existence, are the visitors to Windsor Park before the Northern Irish travel to the reigning world champions, who are unbeaten in 24 World Cup qualifying contests.
Victories over smaller countries helped pave the way for Northern Ireland's qualification for Euro 2016 as O'Neill's men claimed 10 points from a possible 12 against the Faroe Islands and Finland, having dropped points against the likes of Luxembourg, Azerbaijan and Estonia in campaigns before that.
"It is important to pick up points at home, starting next month against San Marino," said veteran West Brom defender McAuley.
"Hopefully we can be positive and be on the front foot and it will be nice to get back to Windsor and have the home crowd and the stadium when it's fully finished.
"And with that crowd behind us, hopefully we can turn that into another three points which would make it a really positive start."
From being overwhelming favourites to defeat San Marino, O'Neill's side will be huge underdogs against Germany three days later.
There is an acceptance from the other nations in the group that the world champions' dominance has probably left second place as the best prize available, something which was reaffirmed to McAuley when he played against them in a 1-0 loss at the Euros.
"We want to be in a good position before we go to Germany," he added.
"We've already seen first-hand at the Euros just how good they are so it's probably a group where it is a race for second place and a play-off place.
"Our aim is to win the next one and go to Germany and give the best performance we can.
"We are a little bit disappointed with how we played in Prague but it gives us confidence that we can improve.
"It's different coming away from home than it is at Windsor Park but on our day we can take on anyone and hopefully that's the case when we go to Germany. It was just important that we didn't lose the first game."