Malta 1-5 Scotland: Strachan can be satisfied with players' response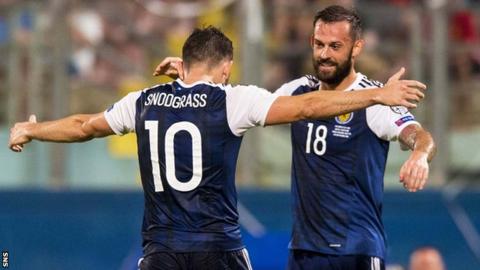 For only the third time since the World Cup in 1998, Scotland have begun a qualifying campaign with a victory - and a resounding one at that.
Regardless of the standard of the opposition, Scotland can take great satisfaction from the manner in which they responded to adversity to finally pummel a stubborn Malta team.
Gordon Strachan admitted afterwards that 1-1 at half-time felt like a crisis and indeed there was plenty of concern among the watching journalists as they prepared to report on another night of Scottish ignominy.
But Strachan and his players kept the head and with the help of one or two dubious refereeing decisions were able to depart Malta as group leaders.
Sterner tests
Much greater challenges lie ahead, but with a convincing win in the bag, Scotland can approach the next match - at home to Lithuania - with increased confidence that they can build a head of steam going into away fixtures against Slovakia and England.
With those two games on the horizon, three points from the Lithuania game are no less necessary than those gained in Malta.
Scotland's failure to take maximum points from fixtures against the two lowest-ranked teams in their group has too often been their downfall.
Incredibly, they have managed it just once since the successful 1998 campaign. More often than not, had they won all four games against the bottom two, they would have amassed enough points to qualify automatically or at least reach a play-off.
Instead, Scotland have slipped up - the memory of Tbilisi this time last year is still raw - and been reduced to the position of bystanders when the major tournaments have come round.
If that is to change this time, the ruthlessness Scotland showed in the second half in Malta must be to the fore more often.
In Snod we trust
As Strachan pointed out on Sunday night, Scotland must also find a way to grab late winners like England did in Slovakia or as Ireland did in the last campaign against Georgia. Such game-changing moments define groups.
For that you need game-changers and in Robert Snodgrass, Scotland once again have a player capable of creating and taking chances.
It is no exaggeration to suggest the loss of Snodgrass for the previous campaign might well have been the difference between qualifying and not.
Now, back to full fitness, the Hull City attacking midfielder showed against Malta he can provide an impetus that Scotland have too often lacked.
His hat-trick may have had a touch of fortune about it - was his first intended as a cross, should Scotland have been awarded the penalty? But you would be hard pushed to find anyone who grudges the genial Snodgrass some good fortune.
After an excruciating 15-month absence through injury, his strength of character has shone through and he will be a key component of any push for World Cup qualification.
Positives and negatives
One other area for Strachan and the Scotland fans to savour from the win in Malta was the left-side partnership forged between Andrew Robertson and Matt Ritchie.
Both were individually impressive - Ritchie's sublime pass for Chris Martin's goal and Robertson's ball that led to the penalty the highlights - but as a combination worked to terrific effect, offering hope that will flourish as the campaign progresses.
Defensively, there are still grounds for concern. Strachan opted for a centre-half pairing he trusts despite the lack of club football played this season by both Grant Hanley and Russell Martin.
He acknowledged an element of rustiness was evident, particularly in the first period when they were shaken up by the loss of the goal.
Alternatives remain thin on the ground but if neither player can force his way into his respective club team before the Lithuania and Slovakia double-header, it would be extremely risky to throw both in again.
There is much for Strachan and his management team to ponder over the next month but they can be content with the way things have started.