Chris Gunter: Reading defender is Wales fans' voice on the pitch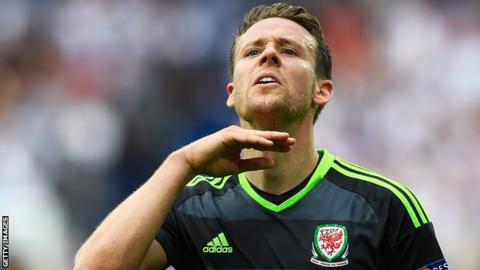 World Cup qualifier: Wales v Moldova
Venue: Cardiff City Stadium Date: Monday, 5 September Kick-off: 19:45 BST
Coverage: Live on BBC Radio Wales, BBC Radio Cymru, BBC Radio 5 live and the BBC Sport website and app.
It was one of the enduring images of Euro 2016 - Wales defender Chris Gunter gesturing to fans to keep their chins up after an agonising late defeat by England.
Daniel Sturridge's injury-time goal had briefly punctured the groundswell of optimism which had followed Wales' opening win over Slovakia.
But there was no breaking the profound bond between Wales' players and their supporters in France, a connection personified by Gunter.
The 27-year-old was a regular on the terraces long before he became a professional footballer; a Cardiff City season ticket holder who could only dream of watching Wales in a major tournament, never mind playing for them in one.
Now, however, Gunter is part of a Wales squad hoping to follow their historic run to the European Championship semi-finals by qualifying for the 2018 World Cup.
The campaign starts at home against Moldova on Monday and, although Gunter and his team-mates are focused on the challenge ahead, the Reading full-back still has a vivid recall of that afternoon in Lens.
"That particular instance [the chin up gesture] probably helped but if you asked the players I'm not sure how many of them - if they weren't in the squad - would have been in the stands," Gunter says.
"I would have. I went home and away to watch Cardiff for years and years. I probably know how a fan is thinking to be honest.
"I just was thinking 'What are they going through?' We've all got mates and family who had made the effort to get over.
"Perhaps because I've been around for a couple of years and never knocked one in the top corner, I guess I'm as close to a fan as you're going to get.
"I would go to games where there was fighting in the stadium and almost fractions within support, now you're seeing flags with Cardiff and Swansea badges next to each other which is unbelievable really and almost sums up the whole feeling around the country."
It only takes a few minutes in Gunter's company to realise why he enjoys such a close relationship with supporters.
He is approachable, talkative and, as his admission about never scoring spectacular goals shows, he is amusingly modest too.
However, Gunter's cult status is not based on humour alone. With 73 appearances for Wales, he is the most capped player in the current squad.
The former Cardiff and Tottenham full-back played every minute of Wales' Euro 2016 campaign, defending stoutly and pushing forward with boundless energy.
Recovering from the post-Euros comedown
His precise cross set up Sam Vokes' headed goal which clinched Wales' stirring quarter-final victory over Belgium - a moment he admits he has watched time and again in an attempt to relive the giddy heights of the summer.
"You spend a couple of days looking back at stuff like that," Gunter says.
"It's only natural because the high and the stuff going through your body with the adrenaline, for that to just stop is not great for you. It was a tough couple of weeks."
The comedown after Euro 2016 is a common theme for Wales' players, and manager Chris Coleman has said he found it difficult to cope in the immediate aftermath.
Having sampled the rush of major tournament football after 58 years of waiting, Wales are now eager to replicate the experience.
"The first time it was wanting to achieve it and be the first squad to do it, but after what we've been through the hunger and determination has to be more because we know what it feels like," Gunter adds.
"That's only going to help, what we've been through. It's not a case of now we've done it people taking it easy or the hunger won't be the same, it can only be more because, speaking to the boys and when we were there, it was some of the best weeks we've ever had in our lives.
"So it's only natural you want it more and we'll give absolutely everything to replicate what we've had in the last two years because it's a massively special time for this country and us as players as well."
Those weeks in France were the best in their lives not only because of their achievements on the field but because of their camaraderie off it.
The team's talisman, Gareth Bale, described Wales as being "like brothers" during the tournament, and their friendships are as tight as ever.
Reading Festival with Ramsey
Gunter and midfielder Aaron Ramsey - close friends since their days as youth team players - went to the Reading music festival together in August.
"We had a great time. On Saturday were Red Hot Chili Peppers, Imagine Dragons and then Sunday it was the Vaccines and Biffy Clyro to end it - we saw it right through," Gunter says.
"We went to Glastonbury years and years ago together and it worked out really well with the way the fixtures fell, and Aaron being injured helped."
Gunter adds the final detail with a grin, a cheeky dig at his room-mate.
His friendship with Ramsey is typical of this tight-knit Wales squad, and it is that kinship which Gunter hopes will inspire them at the 2018 World Cup and beyond.
"It's always been like that. We stay in touch when we're away on the group chat and stuff and I think, honestly, we could have a year gap and when we came back it would be the exact same," he says.
"It's the feeling we have around the squad. It has good people who care for each other, and when we're on the pitch we all want the same thing and we trust each other to deliver. When you put that together it's massively hard force to stop."