Jordan Tillson: Exeter City defender to miss rest of 2016 with broken ankle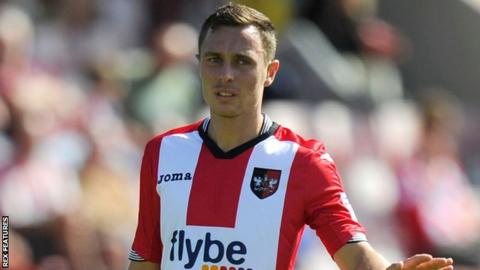 Exeter City defender Jordan Tillson is likely to miss the rest of 2016 after breaking his ankle on Saturday.
The 23-year-old was injured during the League Two loss against Portsmouth.
"I'd imagine it's going to be three to four months, it's a straightforward fracture, as much as that can be a positive outcome," manager Paul Tisdale told BBC Sport.
"It's one thing his ankle being better, but then he's got to train again, so we're looking at Christmas time."
Tillson suffered the fracture after goalkeeper Bobby Olejnik fell on him early in the game at St James Park.
"It's a big loss for us as he's such an able player and very fit, and it's a big loss for Jordan. The squad's whittled down since he's been here and he's gravitated to the top of the pile, deservedly so.
"It's come at a rotten time for him, but if he's going to have a career in the game I'm sure these things will pop up."
Tillson's problem compounded the injury crisis currently faced by Tisdale, with the Grecians forced to bring in Crystal Palace defender Luke Croll and Reading midfielder Jack Stacey on loan after eight first team players were sidelined, all for at least a month.
Among them are central defenders Jordan Moore-Taylor and Troy Archibald-Henville, full-back Craig Woodman and midfielders Tom McCready, Lee Holmes and David Wheeler.