Willie Kirk: Bristol City Women boss says loss to Everton Ladies was undeserved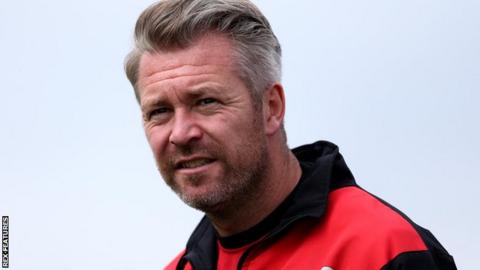 Bristol City Women manager Willie Kirk says his team did not get what they deserved in their 1-0 home loss to Everton in Women's Super League Two.
A first-half penalty, conceded by City's Florence Allen and converted by Chloe Kelly, gave the Toffees a crucial win against their promotion rivals.
Third-place Everton are now two points behind Bristol with a game in hand.
"I'm sure the girls are thinking about beating Everton now in the second-to-last game," Kirk told BBC Sport.
"I said to the girls sometimes you don't get what you deserve over 90 minutes, but you do get what you deserve over the course of the season and that's what we need to focus on in the last few games."
WSL 2 top four as it stands
P
Pts
Yeovil Town
14
30
Bristol City
14
27
Everton
13
25
Durham
13
24
City have four league fixtures remaining in the 2016 season, against Watford, Durham, Everton and Oxford United, with two teams to be promoted to the top flight.
"If we get promoted you'll look back on nights like tonight and say that's fantastic experience, but you obviously want to get your end goal," Kirk continued.
"I've not got any doubts that the team will put the result behind them and once the dust settles and their emotions settle we will appreciate the good performance that we have put in."