SWPL: Big wins for Hibernian Ladies & Glasgow City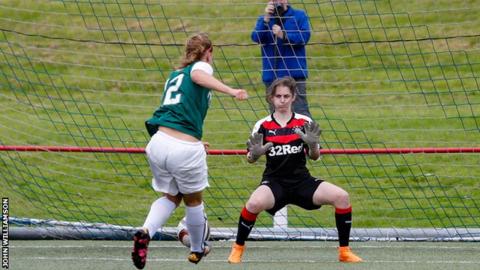 Hibernian Ladies remain five points adrift of Scottish Women's Premier League leaders Glasgow City after beating Rangers 9-0.
Lizzie Arnot and Rachel McLauchlan both got hat-tricks in Hibs' big win.
Scotland international Hayley Lauder was one of City's scorers in their 3-0 defeat of Stirling University.
Third-placed Celtic - 10 points off Hibs - beat Forfar Farmington 5-0 at home while Aberdeen beat hosts Spartans 3-0.
Results
Celtic 5-0 Forfar Farmington
Hibernian Ladies 9-0 Rangers
Stirling University 0-3 Glasgow City
Spartans 0-3 Aberdeen