Garth Crooks' team of the week: Rashford, Sterling, Hazard, Silva, Sanchez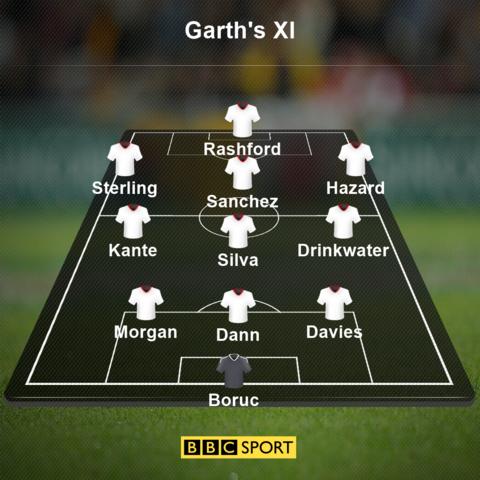 The top of the Premier League table is starting to take shape as Manchester City, Chelsea and Manchester United maintained their 100% winning starts to the season.
Champions Leicester and Arsenal also won for the first time this campaign, while Everton continued their impressive start against Stoke, who drop to the bottom of the table.
Here is my team of the week:
Goalkeeper - Artur Boruc (Bournemouth)
The penalty save from Crystal Palace midfielder Yohan Cabaye was important but the stop from Andros Townsend was better. Artur Boruc has a habit of saving penalties, which is just as well because Bournemouth have a habit of giving them away.
However, what is becoming abundantly clear is the appalling inconsistency surrounding the new directive for holding in the penalty area. Referee Mike Dean did precisely what the directive told him to do and penalised Charlie Daniels for the infringement on Christian Benteke. So why the leniency with Swansea's Jordi Amat and Federico Fernandez on Leicester's Robert Huth? Or Tottenham's Jan Vertonghen on Liverpool's Joel Matip?
All clear penalties based on the evidence and yet nothing given. Boruc's penalty save did not help the debate but it certainly helped Bournemouth win a point.
Defender - Curtis Davies (Hull)
Yet another sterling performance from the Hull City captain Curtis Davies. He has been immense so far this season and it was only down to the brilliance and composure of Manchester United captain Wayne Rooney that he and his team-mates did not share the points with a rampant United.
However, Hull and their skipper have only been as good as their caretaker manager Mike Phelan, who has done a remarkable job in extraordinary circumstances. When is the Hull board going to stop faffing about and give Phelan the job on a permanent basis?
Defender - Scott Dann (Crystal Palace)
What a header. The great Denis Law could not have scored a better headed goal. Crystal Palace were in desperate need of inspiration when Eagles manager Alan Pardew directed Scott Dann to join the fray up front and make something happen. Well, he did far more than that. The defender nodded home a superb equaliser the Law man himself would have been proud of. Textbook Law.
Defender - Wes Morgan (Leicester)
What a finish by the Leicester captain. You normally associate this sort of strike with PFA player of the year Riyad Mahrez or striker Jamie Vardy but not defender Wes Morgan. The volley proved to be a very important goal for Leicester as Swansea finished strongly. The champions needed this win after their rather sluggish start to the season.
Midfielder - Danny Drinkwater (Leicester)
It was something of a travesty that this lad wasn't taken to the European Championship. However, it would have been a bigger travesty if Sam Allardyce had not included the Leicester midfielder in the England team to play Slovakia next week. This player has really grown into an enforcer.
Admittedly, he is missing his former team-mate N'Golo Kante but so would any team member. Nevertheless, he seems to be coping and not moping and he was the driving force behind Leicester's victory over a very dangerous Swansea.
Midfielder - David Silva (Manchester City)
It was David Silva's craft and genius that got Manchester City through a tricky fixture against West Ham. He provided the opening for Raheem Sterling's first goal and generally bossed what was a very impressive first half by City. If Sterling is manager Pep Guardiola's version of Andres Iniesta, then Silva must be Xavi.
Midfielder - N'Golo Kante (Chelsea)
Every team has one and every team needs one but very few are as good N'Golo Kante. We have all become mesmerised by the player's energy and his capacity to cover the ground.
The Frenchman's ability to read the game is at the heart of his success, not to mention his many interventions. Normally, players with such competitive instincts have enormously high booking rates but not Kante. His interceptions are so clean. He will occasionally get booked by the very nature of his game but they will be against teams that pose a much greater threat than Burnley. Sorry Burnley.
Midfielder - Eden Hazard (Chelsea)
If body language, demeanour or state of mind has anything to do with the quality of a footballer's performance then Eden Hazard is back to his best. I cannot remember the Belgian looking so happy and content with his game. What a contrast to the player I saw substituted against Paris St-Germain in last season's Champions League last-16 second leg.
The player I saw that night was a mere shadow of the artist that destroyed Burnley at Stamford Bridge on Saturday. This had nothing to do with the quality of the opposition either but everything to do with the player's state of mind. He is happy again.
Midfielder - Alexis Sanchez (Arsenal)
This player is brave. Alexis Sanchez is not afraid to go in where it hurts. This was perfectly illustrated when the Chilean had floated into the box in readiness to accept a beautiful lofted pass by Mesut Ozil, only to be flattened by Watford midfielder Nordin Amrabat.
This is a feature of players who have a desire to score goals. They must put themselves on the line, which Sanchez has always been willing to do. His goal was world class and the cross for Ozil's header had me jumping out of my seat on Final Score. He was the difference between Arsenal and Watford and why the Gunners demolished the Hornets in the first half.
Midfielder - Raheem Sterling (Manchester City)
Raheem Sterling's first goal was very well taken but his second epitomised the confidence manager Guardiola has injected into his game. What is also abundantly clear is that Guardiola sees Sterling as his version of Iniesta, his former player at Barcelona. He is insisting that Sterling stays as wide as possible but when he receives the ball he must make things happen.
This new-found confidence is a very exciting prospect for England but the question is, can Sam Allardyce pull out the same qualities in Sterling as Guardiola? No-one can deny the qualities exist.
Striker - Marcus Rashford (Manchester United)
This kid is going to be a massive star. Marcus Rashford is not afraid of the big stage and he certainly does not fluff his lines when the spotlight is on him. Against Hull - who were magnificent by the way - Rashford's appearance in the 71st minute was the spark that ignited United's flame and his goal indicative of the player's desire.
Of course, none of this would have happened without the timely contribution of Wayne Rooney. I suggest Rashford watches every move his captain makes in the months ahead because he could be filling those boots in the not too distant future.