BBC Sport - Crusaders edge out Portadown 2-1 to go top of the table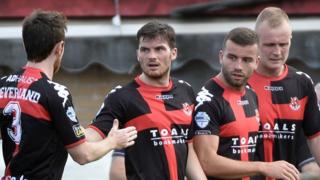 Crues edge out Ports to go top of the table
Howard Beverland scores an own goal and then atones for his mistake by finding the net at the right end as Crusaders edge out Portadown 2-1 to move to the top of the Irish Premiership table.
The Crues went behind in the sixth minute and the former Coleraine defender was on the scoresheet at the other end 14 minutes later as he looped a header over a flat-footed David Miskelly.
Coates was left totally unmarked to emphatically head a Carvill corner past Miskelly in the 53rd minute for the winner.