Hamilton Accies: Dan Seaborne more at home on return from India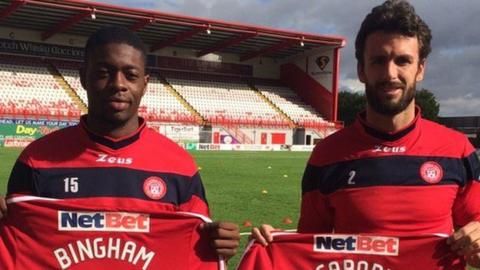 Dan Seaborne turned his back on the Indian top flight to join Hamilton Accies because he could not bear to be apart from his girlfriend and his dog.
Accies have confirmed the signing of the 29-year-old and former Hartlepool United striker Rakish Bingham.
Seaborne had agreed to join Mohun Bagan after leaving Partick Thistle.
"I couldn't take the dog out there and my missus needs to stay in Glasgow for another year to finish her uni course," he said of his two months in India.
"I met clubs from Cyprus and Greece and everything was there to go and do it - and I had two offers on the table from League One in England.
"They were good offers, but it was more of a case of me being happy where I'm living and enjoying life outside of football as well as on the pitch."
Seaborne, who had joined Thistle after leaving Coventry City in 2014 but rejected a new deal this summer, was nevertheless full of praise for the I-League club.
"I went out there and had a look around and signed a contract to play there for a year," said the Englishman.
"It was really good, a great club and the fans were amazing.
"Calcutta was madness, the traffic was a nightmare, but it was good, just not the right time in my life.
"I made a bit of a rash decision turning other things down before going out there."
London-born Bingham joined Accies after scoring four times in 38 appearances for Hartlepool last season before being released by the League Two outfit.
The 22-year-old had a previous spell in Scotland, making nine appearances on loan to Falkirk from Wigan Athletic in 2013.
As the pair arrived this week, Latvia left-back Antons Kurakins reached an agreement to terminate his contract at New Douglas Park after falling out of favour with player-manager Martin Canning.
The 26-year-old, who had previously played for Celtic, Brechin City and Stranraer in Scotland, joined Accies last year from Ventspils in his country's top flight.