Fulham away in the EFL Cup? 'Meh', responds Bristol City boss Lee Johnson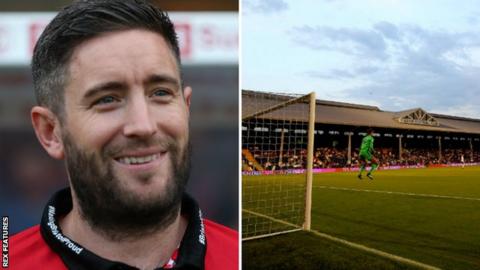 For some managers, the EFL Cup third-round draw was so exciting it prompted memories of collecting Panini stickers.
Others, however, found their draw somewhat underwhelming by contrast.
Because, while League One club Northampton Town can look forward to a dream home tie against Manchester United, Bristol City's reward for a 2-1 second-round win at Scunthorpe is a trip to fellow-Championship side Fulham.
So how did Robins head coach Lee Johnson react when he learnt they were heading to Craven Cottage?
"Meh. That's my reaction," Johnson admitted honestly to BBC Radio Bristol.
"It's one of those where you're watching the draw and you go 'oh no'. I'm sure they (Fulham) did that as well. That's no disrespect to Fulham.
"It's just, what do you want from the round, ideally? Well, you want a minnow at home or you want a top Premier League team away.
"It's a good one for the Johnsons because the rest of the family are all Fulham fans, so they'll all be there.
"But, the more I've thought about it, actually the more excited I am about it. I'm really excited about our young players."
Bristol City will be away to Fulham twice in the space of four days, as the two clubs meet in the league on Saturday, 24 September after their EFL Cup tie.
"We may choose to pick two completely different teams," said Johnson. "But I want to win. So we've got to try and get a balance."