Hope Solo: USA goalkeeper suspended for six months for 'cowards' comment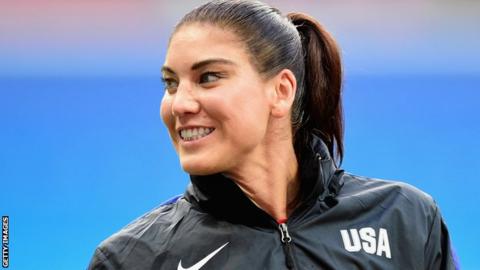 Goalkeeper Hope Solo will not play for the United States for six months after being banned for calling Olympic rivals Sweden "a bunch of cowards".
The 35-year-old World Cup winner made the remarks after her side lost 5-4 on penalties to the Swedes in the quarter-finals of Rio 2016.
US Soccer president Sunil Gulati said Solo's comments were "unacceptable".
Solo, who will not be eligible for the national side until February, said she was "saddened" by the decision.
Writing on her Facebook page, the Seattle Reign star said: "I could not be the player I am without being the person I am, even when I haven't made the best choices or said the right things."
At present, Solo will only miss two games for the US, against Thailand and the Netherlands next month. However, US Soccer has yet to finalise the fixture list.
They played 14 games in the same six months of the 2015-16 season.
In January 2015, Solo, who has made more than 200 appearances for the US, was suspended for 30 days following an incident during a training camp.
Media reports claimed she was in the car when husband Jerramy Stevens was arrested on suspicion of driving under the influence.
Sweden lost 2-1 to Germany in the final in Rio.