Rob Page: 'Nightmare' to watch Northampton Town penalty shootout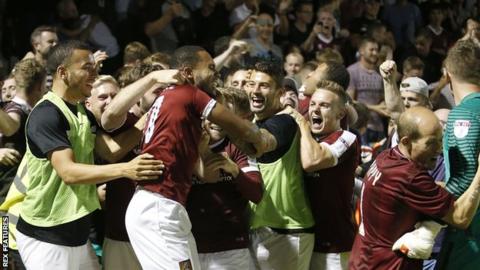 Northampton boss Rob Page says watching his side's EFL Cup penalty shootout win over West Brom was a "nightmare".
The League Two club won the shootout 4-3 in the second round on Tuesday, after the game had finished 2-2.
"It's a nightmare to watch a penalty shootout, but when they miss two, you're confident to go on and get the win," Page told BBC Radio Northampton.
"You've done your work and you've picked your five, it's then down to them to show character and bravery."
Page singled out on-loan Swansea midfielder Kenji Gorre, who scored Northampton's winning penalty, for praise on his sixth appearance since signing last month.
"It's been a frustrating time for him since he has been at the club, he hasn't really shown what I've seen in him, tonight I thought he did," Page said.
"To show character like he did, to step and score the winning penalty like he did, is a credit to himself. He will only get better from having had that experience."
Page has urged his team to build on the victory in the league, starting with Saturday's game against Coventry.
"The team showed true character, the performance was one I was really proud of," he added.
"We will enjoy the moment but our focus straight away is the big game on Saturday."