Uefa Women's Champions League: Cardiff Met 4-0 NSA Sofia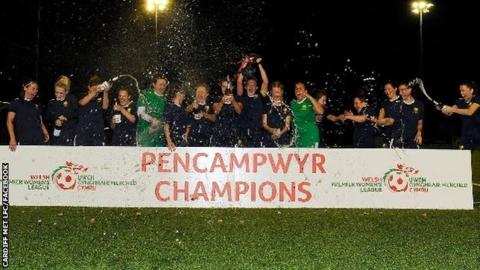 Uefa Women's Champions League qualifying round group three fixture
Tuesday, 23 August: NSA Sofia v Cardiff Met; Spartak Subotica v Breidablik, 18:00 BST (Both games at Cyncoed Campus, Cardiff)
Thursday, 25 August: Breidablik v NSA Sofia, 14:00 BST; Spartak Subotica v Cardiff Met, 18:00 BST (Both games at Cyncoed Campus, Cardiff)
Sunday, 28 August: NSA Sofia v Spartak Subotica, 14:00 BST (Jenner Park, Barry); Cardiff Met v Breidablik, 14:00 BST (Cyncoed Campus, Cardiff)
Cardiff Met kicked off their Uefa Women's Champions League Group 3 campaign with a convincing win over NSA Sofia.
Ellie Sargent gave the hosts the lead in the first half.
Robyn Pinder added the second and Aimee Todd came off the bench to score twice in the later stages.
Group rivals Spartak Subotica and Breidablik later drew 1-1 with the group games continuing on Thursday and Sunday at the Cyncoed venue.