Andre Gray: Burnley striker asks for 'forgiveness' over homophobic tweets
Last updated on .From the section Football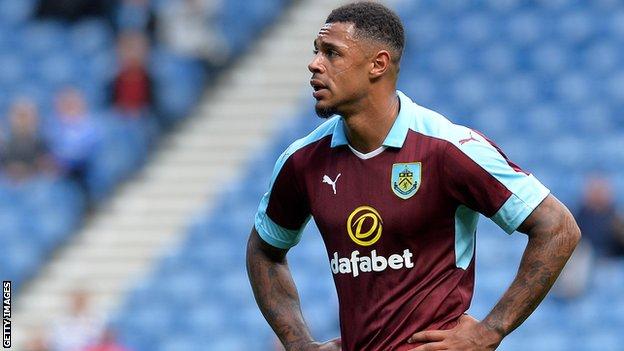 Warning: this article contains offensive language
Burnley striker Andre Gray has apologised and asked "for forgiveness" after homophobic tweets he sent in 2012 were shared on social media.
One tweet from the 25-year-old Premier League player's account appeared to condone killing gay people.
Gray said he was now a "completely different person" to the one who posted the messages and he did not "hold the beliefs written in those tweets".
"Thankfully I am not the guy I was back then," he said in a statement.
The tweets date from four years ago, when Gray was playing for non-league Hinckley United.
The posts, which also contained offensive terms, were deleted on Saturday, soon after coming to light.
One read: "Is it me or are there gays everywhere? #Burn #Die #Makesmesick".
The tweets were highlighted on the day Gray scored his first top-flight goal, helping Burnley to a 2-0 win over Liverpool at Turf Moor.
It comes just a month after he criticised two Burnley fans for racism during a pre-season friendly.
Gray's apology in full
"I would like to respond to media reports with regards to previous tweets posted from my Twitter account.
"Firstly, I want to offer a sincere and unreserved apology to anybody I may have offended in relation to these tweets. The tweets were posted four years ago when I was a completely different person to the man I am now. I was at a very different point in my life back then - one that I've worked hard to move on from.
"Thankfully a lot has changed in my life since then. I have experienced a lot over the past four years and have had to take responsibility for a number of things in my life which has enabled me to mature and grow as a person since that time.
"I have a lot of regrets regarding a number of things I've done in the past and realise I have made some big mistakes, none more so than these tweets, but I would like to stress that I've worked incredibly hard to completely transform my life since that time.
"To clarify, I do not hold the beliefs written in those tweets whatsoever. I can assure everybody that I am absolutely not homophobic and as said previously I can only apologise and ask for forgiveness to anyone I offended.
"Thankfully I am not the guy I was back then and will continue to work hard both on and off the pitch to become a better person."
Reaction
Speaking before Gray's apology, campaign group Stonewall said the attitudes expressed in the tweets can become "a barrier to lesbian, gay, bi and trans people participating".
"While these tweets are of course historic, unfortunately homophobic attitudes and language continue to be an issue in sport, whether that's on the pitch, in the terraces or on social media," a spokesperson said.
"It's extremely important that we work together to kick these attitudes out of sport, and create supportive and inclusive environments that enable everyone to feel accepted without exception."
Thousands of social media users condemned Gray for the tweets.
A statement from Burnley said the club "do not condone any discriminatory behaviour by any employee".
It added: "As Andre has made clear in a statement on his personal account, these are social posts from four years ago, and in this time he has completely transformed his life.
"The player has also apologised and denied he is, in any way, shape or form, homophobic."