Garry Monk: Leeds United boss reacts to first Championship win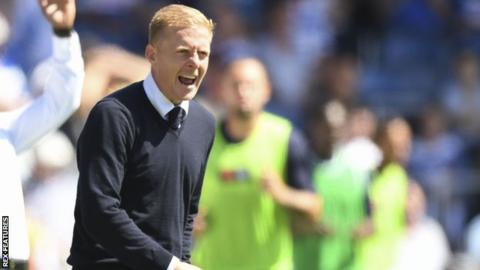 Leeds United manager Garry Monk says he is not under any pressure after securing his first win at the club.
Leeds beat Sheffield Wednesday 2-0 at Hillsborough after a week in which he had reportedly been in danger of being sacked by Leeds owner Massimo Cellino.
Monk had taken one point from his first three league games, but told BBC Radio Leeds: "I'm not under any pressure at all, I have a one-year contract.
"My plan is not an overnight plan, we're not miracle workers here."
The former Swansea manager added: "We've assembled a brand new squad, we're at the start of something new and you can see with the players how much they believe in it.
"It's a long process. We will have ups and downs but what's important is that we have time with this group.
"You can see within time the potential we have to be even better than what you saw today."