Chris O'Grady praised by Burton Albion manager Nigel Clough despite not scoring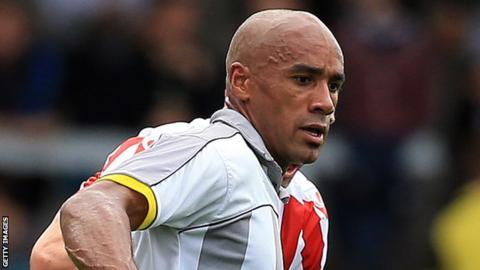 Burton manager Nigel Clough has insisted that Chris O'Grady's work-rate more than makes up for his lack of goals so far this season.
O'Grady, 30, joined on a season-long loan from Brighton this summer, having struggled for goals there and during a loan spell at Nottingham Forest.
He has yet to score for promoted Burton but has impressed in their three Championship games.
"I've always liked Chris. He's a team player," Clough told BBC Radio Derby.
"He's been involved in the majority of goals we've scored this season.
"Yes he'll have to weigh in now and again with a goal - Stuart Beavon's the same.
"But as long as they're working for the team and other people are getting chances around them, that's fine."
Burton have lost two and won one of their league matches this season, netting seven goals.
On Tuesday they clinched the club's first-ever win in the second tier, beating Sheffield Wednesday 3-1 at the Pirelli Stadium.
O'Grady is therefore unfazed by the fact he has not managed to get on the scoresheet.
"It's not something I'm too fussed about, because we're scoring goals and playing well," he said.
"The reaction I'm getting from the other players despite not scoring definitely makes up for it.
"The goals will come. If you start over-thinking about it that's when it'll be harder to score."