Newport County: Manager Feeney defends players against cheat claim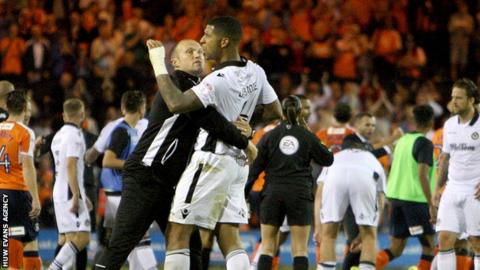 Manager Warren Feeney has denied Newport players are cheats following the 2-1 defeat by Luton Town.
Luton's Cameron McGeehan, 21, was quoted as saying Newport's players were "nasty and they cheat" after the match.
Feeney expects the 21-year-old McGeehan - who scored a controversial late penalty - to be disciplined by the Football Association.
"I read some of his comments and I think he's very naive in what he's saying," said Feeney.
"I think it's a wee bit of immaturity from him but he's going to learn. He's a young boy and he'll probably learn the hard way now."
The hotly-disputed stoppage time penalty was McGeehan's second successful spot-kick in a bad-tempered game.
Feeney said the penalty decision after a challenge on Luton's Pelly Ruddock was "absolutely disgraceful".
"I can see the FA throwing the book at him. Cheat is a strong strong word and I don't think our players did cheat," said the Northern Irishman.
"Our players are honest, they want to win and I think that's a good thing to have."