Guernsey FC: Chris Tardif relishes first FA Cup match in Channel Islands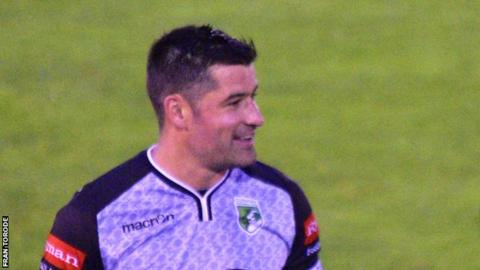 Guernsey FC goalkeeper Chris Tardif is looking forward to being part of FA Cup history this weekend.
The island side host Thamesmead Town on Saturday in the first FA Cup tie to be played in the Channel Islands.
The 36-year-old keeper made his professional debut for Portsmouth in 2001 in the competition.
"It's a full circle for me, starting in the FA Cup as a professional to coming back here playing for my island in that competition - it's fantastic," he said.
"For my son and daughter, we were fortunate enough to go to the final at Wembley last year, I don't think they still quite comprehend the trophy from the final is coming to Guernsey.
"I think they're a little confused and that we should be playing Manchester United on Saturday. I said 'give us a couple more rounds and we'll be there!'"
Guernsey, who play in the eighth tier of English football, were last drawn at home in 2013, but the tie was moved to Sussex as their ground was being used by a local rugby club.
"To bring the iconic competition to Guernsey will be something special," said Guernsey manager Tony Vance.
"The cup itself is coming over here as well. It means not only are we going to be playing in an iconic competition but the cup will be in the background too."