Jack Butland: Stoke City goalkeeper could play against Manchester City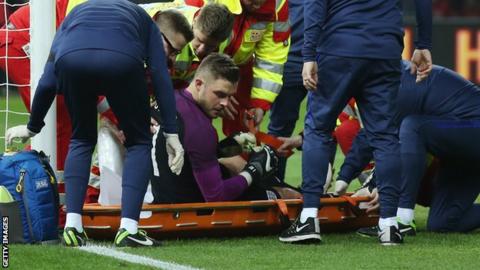 Stoke City goalkeeper Jack Butland could return from an ankle injury to play against Manchester City, according to assistant boss Mark Bowen.
The 23-year-old, who fractured his ankle in England's friendly against Germany in March, missed the Stoke's 1-1 opening-day draw with Middlesbrough.
"Although Jack's not been training he's been out in the sunshine," Bowen said.
"Depending on how the rest of the week goes, there maybe a chance of him being available for Saturday."
Shay Given played in Stoke's stalemate at Boro after Butland suffered another ankle injury in training ahead of their trip to the Riverside.
"There's a smile on his face which was a good indication to start off and that tells me he's been feeling fine," Bowen told BBC Radio Stoke.
"The diagnosis is that the scar tissue had come away which was causing him a hell of a lot of pain, but that has settled down now.
"He's had a jab in it and hopefully it's full steam ahead."