Ashley Williams: Swansea 'need to get on with it', says Lee Trundle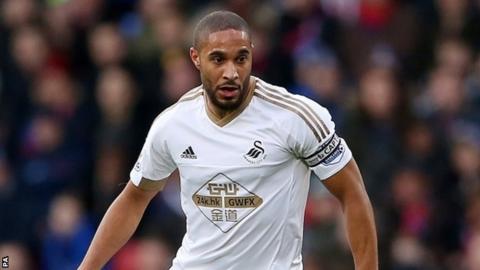 Former Swansea City striker Lee Trundle says the club's senior players need to "step up" and fill the void left by captain Ashley Williams' exit.
Defender Williams, 31, joined Everton on the eve of the new season.
Trundle said other members of the squad now needed to show leadership following the Wales skipper's departure.
"Now he's moved on I think it's up to other people to step up and take that mantle," Trundle told BBC Radio Wales Sport.
"Ashley was very important on the pitch but he was very important off it as well and he held the dressing room together.
"When a player leaves, as a squad you've got to get together and get on with it."
Midfielder Jack Cork said Swansea's players are still adjusting to the departure of Williams, who spent eight seasons at the Liberty Stadium.
Swansea beat Burnley 1-0 on the opening day of the Premier League season, their first game since Williams left the club.
Midfielder Leon Britton has been handed the club's captaincy by manager Francesco Guidolin, a move welcomed by Trundle.
"He can fill the role that Ashley did but in a different way," added Trundle, who scored 83 league goals in two spells with the Swans.
"He's not a ranter and raver but he's a big character and well respected within that dressing room.