Joe Garner: Rangers want striker, says Preston boss Simon Grayson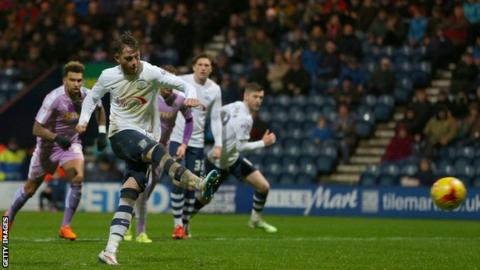 Rangers are interested in signing Preston North End striker Joe Garner, according to Lilywhites manager Simon Grayson.
Englishman Garner, 28, has scored 57 goals in 148 appearances since joining Championship North End in 2013.
"Rangers are sniffing around and they want to take Joe Garner," said Grayson after Preston lost 2-1 to Fulham on Saturday. "We are not looking to sell.
"We don't want to sell anybody but every player has a price."
Ibrox manager Mark Warburton has been keen to add another striker to his squad.
And he said after Saturday's 2-1 Scottish Premiership win over Dundee: "We are looking for a number of players. We're looking for a striking option and a defensive option. Hopefully we can make some progress in the next few days."
Grayson was keen to stress Preston are not under pressure to sell Garner, who signed a three-year contract at Deepdale last year.
"We will sit down if anyone comes in with an offer and contemplate it and we will do the right thing for the football club.
"We are not looking to actively sell him, there has been enquiries which we will talk about over the next 24-48 hours.
"They have talked a few figures here and there and we will only sell for the best value we can get.
"We don't have to sell, we will only sell if we have a player who wants to leave the club.
"I spoke to Joe this morning and he just wants to get on and play his football."