Kilmarnock 1-2 Motherwell: Lee Clark denies abusing match officials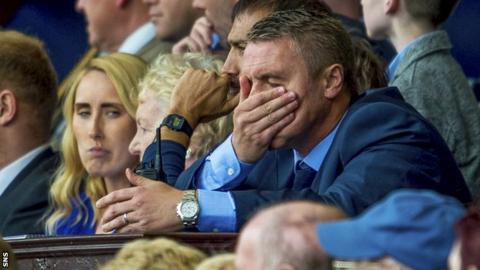 Manager Lee Clark denied directing any foul or abusive language at the match officials in Kilmarnock's 2-1 defeat to Motherwell.
Clark was sent to the stand in the first half by referee Craig Thomson.
"If I did, I didn't direct it at anyone," Clark told BBC Scotland.
"I thought the fourth official was being a bit over zealous. I stepped out of my technical area a couple of times but I wasn't causing any problems to anybody."
Clark watched the majority of the game from the stand after it appeared he had said something to the fourth official.
"I never directed any foul or abusive language at anyone," said Clark. "To not even have the opportunity to speak to the referee [before being sent to the stand] was absolute nonsense."
Motherwell took the lead thanks to a sublime chip from Lionel Ainsworth, then doubled their advantage immediately after the interval with Marvin Johnson's header.
Killie pulled a goal back through Martin Smith's header, which resulted in a late, if ultimately futile, rally.
"He (the fourth official) wanted to keep me off the pitch at the end when I wanted to congratulate the Motherwell lads, and thank my lads for their efforts.
"But that was the least disappointing of the decisions.
"The goalkeeper comes over the top with Souleymane Coulibaly. There's another one, I've seen the footage so I'm not speaking out of turn, when Souleymane gets to the ball - it's got a great chance of being a penalty, but certainly what it isn't is a foul against Souleymane.
"I'm having to answer questions that really the guy who made the decisions should be answering."