BBC Sport - Crusaders start title defence against Ballymena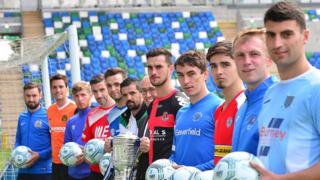 Crues start title defence against Ballymena
Crusaders will have some new faces in their team as they launch their defence of the Irish Premiership title against Ballymena on Saturday.
Stephen Baxter's men have won the title for the last two seasons but are expected to face a tough challenge from Linfield who were runners-up in the last campaign.
Linfield boss David Healy has signed two of his former Northern Ireland team-mates - goalkeeper Roy Carroll and midfielder Sammy Clingan.