Bristol City Women: 'Greedy' Willie Kirk aims to win Women's Super League Two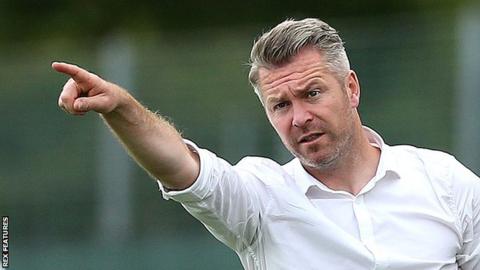 Bristol City Women manager Willie Kirk wants to "finish the season with a winners' medal", as well as securing an immediate return to the top flight.
The Vixens sit second in Women's Super League Two, behind local rivals Yeovil.
Kirk took Hibernian to the Scottish Cup final and a second-place league finish in 2013 but wants to go one better with Bristol, who he has managed since 2015.
He told BBC Sport: "I hope I can use my previous experience where my teams have failed to our advantage this year."
He added: "We'll keep pushing Yeovil as hard as we can. Probably the toughest part of it will be playing against ourselves.
"I don't think the girls are nervous at all. They are determined, they are excited, and hopefully we can use that as motivation to finish the job off."
Both Bristol and Yeovil have five games of the WSL 2 season remaining, but third-placed Everton and fourth-placed Durham both have a game in hand.
WSL 2 promotion race remaining fixtures
Yeovil Town
Bristol City
Everton
Durham
Sheffield (a) 28 August
Everton (h) 27 August
Bristol City (a) 27 August
Oxford United (h) 28 August
London Bees (h) 11 September
Watford (h) 10 September
Oxford United (h) 11 September
Millwall (a) 11 September
Everton (h) 25 September
Durham (h) 24 September
Yeovil Town (a) 25 September
Bristol City (a) 24 September
Durham (a) 9 October
Everton (h) 9 October
London Bees (a) 30 October
Everton (a) 29 October
Bristol City (h) 29 October
Watford (a) 30 October
Sheffield (h) 6 November
Oxford United (a) 6 November
London Bees (a) 6 November
Millwall (h) 6 November
"We are in a good position, obviously five games to go and we are in the top two," Kirk continued.
"We are hoping that by continuing to put pressure on them (Yeovil) every week that points will be dropped."
Following a four-week break, Bristol City play their next league match at home to promotion rivals Everton Ladies on Saturday, 27 August.
Captain Jodie Brett said: "Everton are chasing us, but we just have to take care of our own business and win each game.
"We don't want to rely on other people's results. If we stick together as a team and believe, then hopefully it will happen for us."