Michael Devlin: 'I'm ready for captaincy at Hamilton Accies'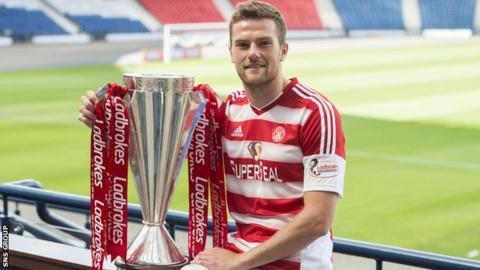 Michael Devlin believes he can thrive in the captain's role at Hamilton Academical this season.
The 22-year-old defender takes over the responsibility from Michael McGovern following the Northern Ireland goalkeeper's move to Norwich.
"I feel it's something that I'm ready for, I feel I can cope with it no problem and I feel I can offer the team something," said Devlin.
"It's a massive honour and I'm really looking forward to it."
Devlin has no qualms about his leadership role, despite being one of the youngest players in Martin Canning's squad.
"I had a chat with the manager and he felt that the next stage of my development was to take on extra responsibility," he explained.
"It was something I tried to do anyway, to try and lead and help the other players round me."
Devlin missed the first half of last season with a knee injury and thinks the experience has matured him.
"It forces you to grow up, be a bit more professional and look after yourself a bit more," he said. "One injury can ultimately finish your career.
"Fortunately, I managed to recover and I've worked hard to get back into the right condition so I can keep on improving."
Accies have finished seventh and 10th since they returned to the top flight but Devlin is not setting any targets beyond survival.
"We'll never look any further than trying to stay in the league," he said. "It's the same every year.
"We're the smallest club, with the smallest budget, so anything above consolidating our Premiership status is a bonus."
'Rangers a welcome addition'
Hamilton begin their Premiership campaign against Rangers on Saturday and Devlin is looking forward to the return of top-flight football at Ibrox.
"It can only be a good thing for the game that one of the biggest clubs in Scotland are back in the Premiership," he said.
"As a professional, as a player, an individual you should relish going to that size of stadium and playing in front of 50,000.
"For the league it's great to have all the best teams back in it and I think it's good for Celtic, there will be a bit of competition there again.
"For a club like Hamilton, financially there will be positives from that with Rangers bringing in a big gate."