Torquay United 'need cash injection', says chairman David Phillips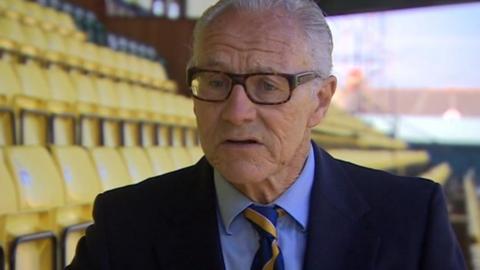 National League side Torquay United "need a cash injection" to survive, according to chairman David Phillips.
The Gulls are looking for new owners after a protracted takeover deal with Swindon-based Gaming International (GI) fell through on Sunday.
Phillips, who led a consortium which saved the club last summer, is actively looking for new owners.
"We're open to discussions with anyone that's interested in coming into the club," he told BBC Sport.
"We need a cash injection, that's pretty obvious to everyone."
Phillips' consortium took over the club after millionaire owner Thea Bristow left.
The group was forced to drastically cut costs, shutting the club's academy, giving up the training ground and getting rid of then-manager Chris Hargreaves and his assistant Lee Hodges.
"We came in as a lifeboat situation 18 months ago and kept it going," added Phillips. "It's been tough, some very hard decisions have been made.
"We're ok at the moment, but we do need a cash injection, that's the way football clubs are run."
Phillips said he had had interest from other parties in taking a stake in the club, but would not divulge how advanced any talks were.
"It's been very tough and I'm not the happiest man in the world," he added.
"They (GI) may not have been the best bedfellows for us anyway, but we certainly need someone to come in.
"We need to get discussions going as soon as possible because we haven't got time to waste, we need to get on with the season."